Steve Andriole
Fellow
Business Technology & Digital Transformation Strategies
Dr. Stephen J. Andriole is a Fellow with Cutter Consortium's Business Technology & Digital Transformation Strategies and Data Analytics & Digital Technologies practices. Dr. Andriole's focus is digital business transformation and emerging digital technologies. His recent consulting has focused on digital transformation at clients such as Comcast, Shire Pharmaceuticals, and Villanova University. He is currently collecting data as part of a Cutter study on the pace and span of digital transformation as enabled by the adoption of emerging/disruptive technologies.
Dr. Andriole was Director of the Cybernetics Technology Office of the US Defense Advanced Research Projects Agency (DARPA), where he managed a $25 million R&D program that led to several vital scientific and technological advances in the broad-based information, decision, and computing sciences. He served as CTO and Senior VP of Safeguard Scientifics, Inc., where he was responsible for identifying technology trends, translating that insight into the Safeguard investment strategy, and leveraging trends analyses with Safeguard partners to help them develop business and marketing strategies. Dr. Andriole was also CTO and Senior VP for Technology Strategy at CIGNA Corporation, a $20 billion global insurance and financial services company, where he was responsible for enterprise information architecture, computing standards, the technology R&D program, and data security, as well as overall alignment of enterprise information technology investments with CIGNA's multiple lines of business through digital transformation of conventional processes and models.
Leadership must change .... Old leadership styles and best practices will no longer work in a participatory world of trust. This is a massive change from the whole "chief" world with which we've become so familiar. The idea that C-level executives can solve complex, nuanced problems with governance hammers is dated. Problem definitions and solution spaces have matured well beyond one-person-can-fix-all leadership models. It really does take a village of smart, dedicated professionals committed to evolution and radical change, whichever is appropriate at the time.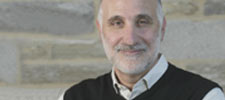 As an entrepreneur, Dr. Andriole founded International Information Systems (IIS), Inc., which designed interactive systems for a variety of corporate and government clients. He is also cofounder of The Acentio Group, a strategic consulting consortium that identifies and leverages technology trends to help clients optimize their business technology investments.
Dr. Andriole is currently the Thomas G. Labrecque Professor of Business Technology at Villanova University, where he teaches and directs applied research in business-IT alignment and pervasive computing. He is formerly a professor of information systems and electrical and computer engineering at Drexel University as well as a former professor and Chairman of the Department of Information Systems & Systems Engineering at George Mason University, where he was awarded the university's first George Mason Institute Professor of Information Technology.
Dr. Andriole has authored 35 books, including Interactive Computer-Based Systems Design and Development; Microcomputer Decision Support Systems; Applications in Artificial Intelligence; Information System Design Principles for the 90s; Applied Artificial Intelligence: A Sourcebook; Cognitive Systems Engineering (coauthored with Leonard Adelman); and Managing Systems Requirements: Methods, Tools, and Cases. His most recent books include Ready Technology; The 2nd Digital Revolution; Best Practices in Business Technology Management; and Technology Due Diligence: Best Practices for CIOs, Vendors, and Venture Capitalists; and the forthcoming The Innovator's Imperative. Dr. Andriole has also written more than 500 articles and papers, including for publications such as Cutter Business Technology Journal, Software Development, MIT Sloan Management Review, Communications of the ACM, and IEEE Software.
Dr. Andriole received his bachelor's degree from LaSalle University and his master's degree and PhD from the University of Maryland, both of which were supported by a National Defense Education Act fellowship; his PhD dissertation was funded by DARPA. He can be reached at consulting@cutter.com.