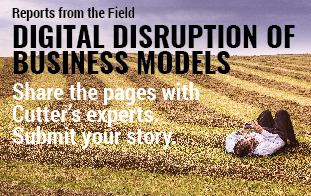 Call for Papers
Digital Disruption of Business Models
From software to automobiles, from financial services to healthcare, business models for value creation and value capture are rapidly changing. Digitally-driven disruption is creating winners of both new entrants and established businesses, while threatening the future of many firms and industries.
If you're involved in transforming your company's business model, or creating an entirely new business model, as an existing company or new player, this is an opportunity to share your insights on the process, publicize the results, and tell your story to a global audience of senior execs across industries.
Cutter Consortium is seeking papers addressing digital transformation and innovation, and the new value creation and capture opportunities it yields. We request an abstract and/or outline of your paper. Final papers will be 1,500-4,000 words; original figures can be included. Your piece will be professionally edited by the Cutter team who has covered emerging trends for more than three decades and has helped put the ideas of pioneers into copy that becomes an outstanding piece of work for readers worldwide.
We will select the best proposals and invite you to submit the fully-written paper. The five finalists will be published in the upcoming Cutter Consortium Executive Report, "Reports from the Field: Digital Disuption of Business Models."
Please send your proposals to Managing Editor, Cindy Swain, by March 20, 2017.