July 14, 2015 — Arlington, Massachusetts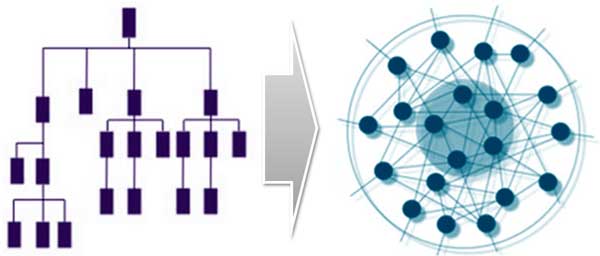 Switching from the Industrial Age's structured, hierarchical forms of organization to more fluid, networked structures that are more appropriate in the Information Age is one of the biggest organizational design (OD) challenges facing many organizations, according to Roger Evernden. "At the heart of this change is the need to change our underlying mental models of what constitutes an 'organization' -- which is where OD models lead and EA follows. The centralized, functional OD hierarchies of the Industrial Age were supported by enterprise architectures that supported top-down, command-and-control leadership, departments, and divisions, and the creation of internal products that were pushed out or sold to customers. Functional needs determined architectural structures (or in the old adage, 'form follows function')."
Evernden continues, "In the sense-and-respond OD model, EA supports devolved mini-enterprises where individual teams may lead or set direction as much as senior executives. It is within organizations that have this type of OD model where we find EA teams that are an integral part of the direction- and strategy-setting process because these organizations have cultures that recognize the inherent necessity of enterprise architecture to enable an organic organization design. Here it is the need for collaboration and integration that drives architectural structures (we might say that this is 'form follows integration')."
"From this discussion," he concludes, "we can see that a pictorial representation of the overall EA is pretty much identical to the OD design graphic. Figure 1 illustrates the core transition that most enterprise architectures continue to face today. On the left of the figure is the traditional view of EA, where many of the components were replicated or siloed to mirror the form of the prevailing OD model. To the right is a network view of EA, where architectural components are combined in a more fluid, adaptive, systemic way to echo the needs of an integrated and collaborative OD model."
* Excerpted from "What Can EA Learn from Organization Design Models?," (
) Business and Enterprise Architecture Executive Report, Vol. 18, No. 4