Every enterprise needs to integrate information and services across organizations, partners and systems.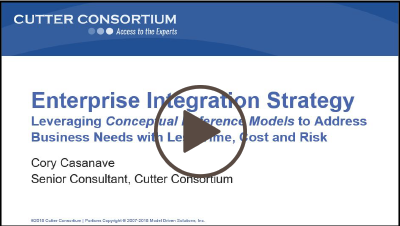 Leveraging models and actionable architecture at all levels and stages of an integration initiative is an organization's most sound approach. Actionable enterprise architecture assets — meaning architectures that directly and rapidly contributes to solutions —  ensures your organization has a foundation for modernization, integration, analytics, big data and cloud migrations. Combining conceptual models as a foundation for broad-based information federation and integration with an enterprise services architecture will help you better understand how business units and systems work together.The path forward to effective integration is often unclear.
An Enterprise Integration Architecture Assessment of your business and technical drivers in the context of your current environment and practices will help crystalize the way. You'll get:
Independent evaluation of your current state by an expert
A better understanding of the how your organization can approach federation, integration, and interoperability
Knowledge of the applicable standards
A framework for achieving a more integrated and collaborative enterprise and successfully embracing exciting new technologies like IoT, cloud, big data and analytics
Next steps
As a result of Cutter Consortium Senior Consultant Cory Casanave's rapid Enterprise Integration Architecture Assessment, you'll have a framework and plan for proceeding with a more effective enterprise integration and federation strategy. The assessment includes review of your existing materials, a day on site with stakeholders, and an assessment report as a deliverable. With this report, you'll be ready to move forward on a plan to effective enterprise integration.
Bring Cutter's business architecture training to your organization:
Building a Business Architecture
Establishing and Maturing a Business Architecture Practice
Business Architecture Immersion
Extending the Business Architecture: From Strategy to Execution
Business Architecture/IT
Architecture Alignment
What's Next?
For more details on benefitting from an Enterprise Integration Architecture Assessment, just complete the form below, send an email to your Cutter Account Executive, or call +1 781 648 8700.