About the Team
Our team of experts — former and current CIOs, professors from top business schools, and experts who have pushed the boundaries and are revolutionizing the thinking in fields such as digital transformation, sustainable innovation, change management, leadership, and enterprise risk management  — are on your team, too!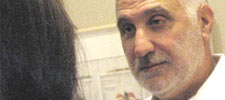 ...discussions around technology acquisition, deployment, and support "decision rights" must immediately and forever adapt to the new realities about where technology comes from, how it's evaluated, and how it's delivered and supported.
---
These are the business technologists who have "walked in your shoes" as C-level executives and as consultants who have successfully led and guided organizations through enormous change. It's these professionals who deliver the experience-based consulting, training, and research that helps Cutter client organizations worldwide build competitive advantage.
Meet the Business Technology & Digital Transformation Strategies Experts