About the Team
Cutter's Data Analytics & Digital Technologies team first applied Agile concepts to Data Warehousing in 2005, writing a Cutter Executive Report on "Agile Data Warehousing" and doing the first landmark consulting in this area. They continue to be pioneers in the field, from big data analytics to mobile design, data quality to data management, data privacy to data security, social to collaboration, IoT to wearables, data architecture to data management, and more.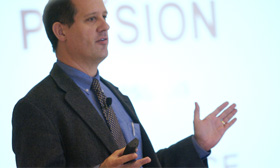 When you suddenly have all the data you could want and can quickly analyze it anyway you like, unencumbered by extraneous effort that we have historically had to endure, what happens? Being human beings with a tendency to confirm what we so want to have happen or to relive what felt so good in the past, managers often drift into self-sealing and circular analysis that at first doesn't seem so wrong. Big data has to poke through the subtle and instinctual responses of data denial.
---
Cutter's Data Analytics & Digital Technologies experts are on the front lines, advising and guiding Cutter clients in both strategy and technology — from ideation to implementation.
Meet the Data Analytics & Digital Technologies Experts