Special Offer from Cutter Consortium
Agilifying Your Digital Organization: 6 Steps to Get Started
by Yesha Sivan and Raz Heiferman
In this article, Yesha Sivan and Raz Heiferman articulate con­crete ways in which we can both shift our perspectives and act to "agilify" our organizations. They describe how agile organizations think, what they can do, the abilities they must possess, and even the key technologies they should adopt. They also touch on the important interplay among leadership, culture, business architecture, and digital architecture.
Download your complimentary copy of Agilifying Your Organization: 6 Steps to Get Started when you fill out our special offer form below.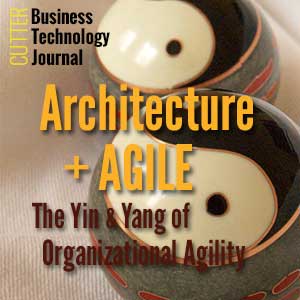 Agilifying Your Digital Organization: 6 Steps to Get Started is one of six articles in the report, Architecture + Agile: The Yin & Yang of Organizational Agility. Order this report and SAVE 20% with Code AA20.
Don't miss another issue! Subscribe to the monthly Cutter Business Technology Journal today and SAVE 50% on a new subscription!