Accelerating Business Architecture: Leveraging Tools
Posted July 9, 2018
| Technology |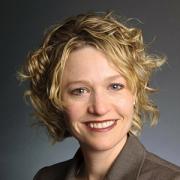 B & EA EXECUTIVE UPDATE VOL. 21, NO. 5

This is the final Executive Update in a three-part series that focuses on how to accelerate the development of an organization's business architecture. The first Update looked at the importance of the knowledgebase and techniques for building it in the most expeditious manner, while the second Update discussed how to utilize reference models to further accelerate business architecture development. This last installment centers on how to leverage tools for creating, maintaining, and using business architecture in support of business value.
The Value of Business Architecture Tools
A reusable, centralized business architecture knowledgebase representing the full scope of an organization is at the heart of any business architecture practice. It provides the intelligence for decision making, impact assessment, analysis, design, prioritization, planning, and execution. Its high-level, enterprise-wide view is its strength and a major differentiator from other techniques and disciplines. 
Even though business architecture content is created at a relatively high level of detail, as an organization captures more and more domain information (e.g., strategy mapping, initiative mapping, product mapping) and relationships, an automated business architecture tool becomes a critical investment to enable scale, accuracy, and robust application for a wide range of business scenarios.
A business architecture tool provides a repository for maintaining business architecture content and the ability to generate a wide array of blueprints and reports, which are then used for purposes of analysis and communication in various business scenarios. Automated business architecture tools do the following:
Reduce errors and save significant time spent capturing business architecture content and relationships, especially when rippling through changes (e.g., changing a capability name is a quick change in a tool, but requires many updates to diagrams and spreadsheets if captured manually).
 
Enable detailed tracking of information (e.g., capturing attribute information across multiple capability instances) and complex visualizations and reporting.
 
Provide business architecture access to all business architects and consumers of the business architecture with varying views and functionality.
 
Connect with content from other functions and disciplines.
 
When to Invest in a Business Architecture Tool
Organizations typically capture their business architecture manually at first, using the Microsoft Office suite, primarily Visio, Excel, and PowerPoint. These tools can be sufficient while building the minimum business architecture baseline, which includes capabilities and value streams.1 However, the tipping point for needing an automated business architecture tool tends to come as soon as the capability/value stream relationships (cross-mappings) have been completed — and certainly when additional business architecture domain content and relationships begin to be captured. Most business architecture practices invest in a business architecture tool during their first or second year. Frequently, they begin with a lighter-weight tool and then graduate to more robust ones moving forward, as needed.
What to Look for in a Business Architecture Tool
When assessing and selecting a business architecture tool, consider the following categories of needs (see Figure 1):
Business architecture mapping — ability to capture and maintain content for all the business architecture domains, including the core domains (capabilities, value streams, organization, and information) and extended domains (strategies, policies, products, stakeholders, and initiatives); also includes the ability to capture architecture attributes such as business performance metrics on capabilities and value streams.
 
Discipline alignment — ability to cross-map business architecture domains to other domains, especially the ability to connect business architecture to customer journeys, requirements, processes, and the IT architecture.
 
Usage — ability to analyze and represent the business architecture, such as by visualizing capability and value stream effectiveness through heat mapping; also includes the ability to create, analyze, and visualize various deliverables in support of business scenarios (e.g., strategy translation, transformation, project portfolio management).
 
Tool features — includes features that enable the management and sharing of business architecture (e.g., nonfunctional aspects such as usability, availability, and security); also may include alignment with the BIZBOK® Guide metamodel.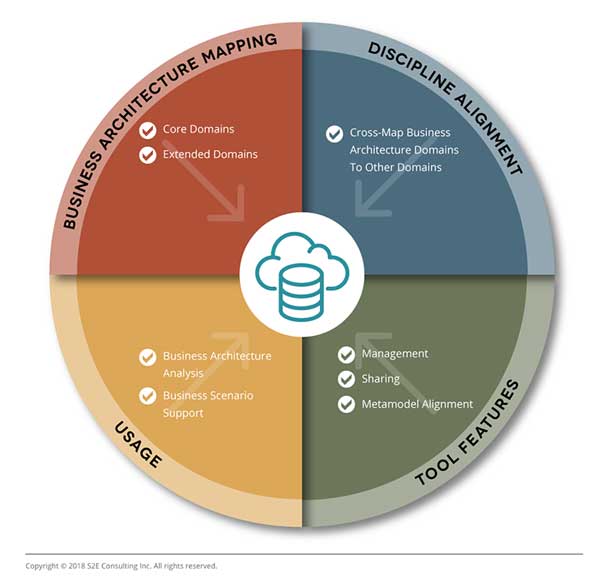 The Business Architecture Guild® offers a Business Architecture Tool EvaluatorTM, which provides a comprehensive set of BIZBOK Guide–aligned evaluation criteria and allows organizations to assess, score, and compare business architecture tools. The evaluator was created and tested by business architecture practitioners from various organizations and geographies.
There are several tools available on the market ranging from lighter-weight ones to more robust enterprise architecture tool suites. Some of the lighter-weight tools provide a full range of business architecture functionality, while some just support a portion of the domains, views, and scenarios. However, as the business architecture discipline continues to mature globally, the available tool options will likely expand over time. In addition, the Business Architecture Guild is currently in the process of defining a formal standard for the business architecture metamodel2 (i.e., a representation of business architecture domains and relationships), and as this moves forward, it is likely that the tool market will expand and more vendors will offer solutions that align with the BIZBOK Guide.
Key Considerations for Business Architecture Tool Selection
Keep in mind the following additional considerations when selecting a business architecture tool for your organization:
Alignment with standards. Look for tools that align with the BIZBOK Guide or easily enable alignment with it, such as by utilizing a premade template — without having to pay for costly configurations or customizations. Alignment with the BIZBOK Guide is important because it is the industry-wide business architecture body of knowledge, based on efforts by business architecture practitioners globally, which continues to create formalization and standardization of the practices, certification, and training related to business architecture. Tools that align with the BIZBOK Guide include the full scope of defined domains and relationships as well as support application in a variety of standard business scenarios. However, even tools that are BIZBOK Guide–aligned may not support a full scope of domains, relation­ships, and/or scenarios. For example, a tool may focus primarily on strategy and capability mapping and then leverage this information for prioritization and initiative decision making. If this functionality is helpful, consider augmenting it with other tools (not manual methods) that address the full scope as well.
 
Easy integration and migration. Look for tools that enable integration with other tools, such as those used to manage requirements or IT architecture (if you do not currently have an enterprise architecture tool). In addition, if you start with a lighter-weight business architecture tool, as many teams do, you may eventually want to move the data out of it into a more robust enterprise architecture tool, making integration of great importance.
 
Data sharing and visualization. Look for tools that allow the business architecture to be easily shared by all business architects and consumers. Also evaluate the visualization and reporting functionality of the tool, which is critical for successfully using the business architecture. If a tool is lacking in data visualization functionality but meets all other needs, this is an area that a separate tool can address; however, a second tool requires additional cost, time, and training to set up and use.
 
Enterprise architecture context. If you have IT architect counterparts in your organization, inform and consult with them on your tool choices. Business and IT architecture exist together within the enterprise architecture umbrella, so a common vision and coordination across architecture disciplines is important.
 
Summary
A well-structured and rich knowledgebase is at the heart of any successful business architecture practice. While all organizations have a business architecture, it may not be written down comprehensively from an enterprise perspective. However, by leveraging solid business architecture know-how, a practical, value-based approach to building the knowledgebase, and reference models, the knowledgebase can be built in the most accelerated manner possible. Business architecture tools further enable scale and robust usage of the knowledgebase across an organization — to deliver business value across the strategy execution lifecycle — which is the reason why a business architecture practice exists in the first place.
---
2 See Appendix B.4 of the BIZBOK Guide for the business architecture metamodel.