Building the Agile Enterprise: Myths, Perceptions, and Reality
Posted March 31, 2008
| Leadership | Cutter Benchmark Review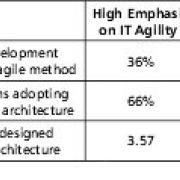 As I write this article in the spring of 2008, the need for enterprise agility is once again a topic on the minds of executives everywhere. Stock market gyrations push prices down 3% one day, up 4% the next. Firms that months before had record profits struggle to stay alive.
Not a Cutter Community Member?
Register today to read select open-access articles.