Low-Code/No-Code-enabled Citizen Developers: Catalysts to Innovation
Posted February 10, 2021
| Leadership | Technology |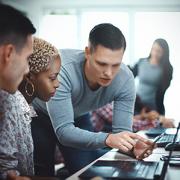 In today's highly competitive environment, it can be challenging to fulfill the development and operational demands needed to keep your businesses running while also continuing to expand and enhance your digital capabilities. This is where "citizen developers" can help — and where "low-code/no-code" (NC/LC) solutions shine.
Not a Cutter Community Member?
Register today to read select open-access articles.