Post-Pandemic Emerging Technology Adoption: How Different Should It Be?
Posted July 14, 2021
| Leadership | Technology | Amplify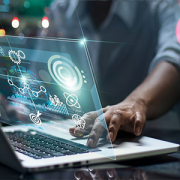 Cutter Consortium Fellow Steve Andriole opens the issue with a fundamental question of the times, "What's different about pre- versus post-pandemic technology adoption?" He addresses the timeless imperative for technology leaders to be effective both strategically and operationally.
Don't have a login?
Make one! It's free and gives you access to all Cutter research.