Preparing for the Post-Corona Era: Tips for the Automotive Industry
Posted June 9, 2020
| Industry | Leadership |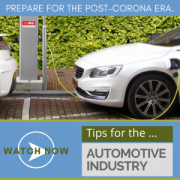 The "new normal" for the automotive industry will look very different from that of the last decade. Players — manufacturers, dealers, distributors, OEMs, and the full supply chain — will need to make bold decisions right now to be ready. In this webinar on demand, Andreas Schlosser, Alan Martinovich, and Philipp Seidel divulge the actions carmakers should take now to set themselves up for the new normal and win in the post-corona era.
Not a Cutter Community Member?
Register today to read select open-access articles.