3 Ways to Waste Money on AWS (and How You Can Avoid Them)
Posted September 5, 2018
| Leadership | Technology |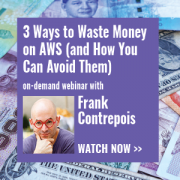 In this on-demand webinar, Cutter Consortium Senior Consultant Frank Contrepois shares advice, forged from his experiences with AWS, on how you can avoid wasting money on cloud services by keeping an eye on — and acting upon — three things.
Not a Cutter Community Member?
Sign up today to read this and all other articles.