Is AI Really Transforming How Organizations Operate?
Posted November 6, 2018
| Technology |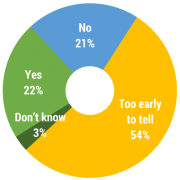 There is a lot of talk about how AI offers the possibility to transform how organizations operate. I am guilty of throwing around this type of statement myself. Of course, this brings up the all-important question: to what extent is AI currently transforming how organizations operate? Fortunately, the latest results from our ongoing survey examining the adoption and application of AI technology in the enterprise offer some insight into this question.
Don't have a login?
Make one! It's free and gives you access to all Cutter research.