The Cloud Buyer's Advantage
Posted November 3, 2016
| Leadership | Technology |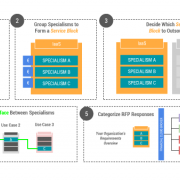 Cloud is on everyone's mind. If you are in the throes of cloud procurement — facing challenges around cost reduction, centralized billing, and agility — then buying indirect offers significant advantages. The objectives of unlocking lower pricing to reduce costs and negotiating suitable procurement terms to improve agility are best achieved by buying cloud indirectly. It is the role of cloud brokers, resellers, and distributors to help customers get the best deal. To negotiate preferred terms as an enterprise cloud buyer, consider buying through an IT distributor or reseller. As we explore in this Executive Update, it is time to start buying cloud as an organization, not as an individual. That means taking a long-term view of how you continually monitor, optimize, and manage the procurement of cloud infrastructure.
Not a Cutter Community Member?
Register today to read select open-access articles.