Drones at Work, Part II: Update on Commercial Drones
Posted March 24, 2015
| Leadership | Technology |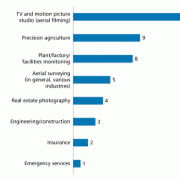 In June 2014, I discussed some of the possibilities the commercial use of drones offers. Since then, the US Federal Aviation Administration (FAA), after several years of study, has finally issued proposed guidelines for the commercial use of drones in the US. Moreover, the FAA appears to be more receptive to commercial drone usage, and we are now seeing an increase in their use by companies, government agencies, and researchers.
Not a Cutter Community Member?
Sign up today to read this and all other articles.