Legal Implications of Fostering Innovation in the Age of Electronic Collaboration
Posted September 24, 2012
| Leadership | Leadership | Leadership |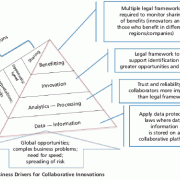 Innovation is the key to survival and prosperity. This is particularly true today, when the rapid advance -- and obsolescence -- of technology regularly changes the business environment.1 Such innovation is facilitated by opportunities to collaborate on electronic platforms.
Not a Cutter Community Member?
Register today to read select open-access articles.