Overcoming the Obstacles to Achieving Agility and Delivering Business Value
Posted March 31, 2015
| Technology | Amplify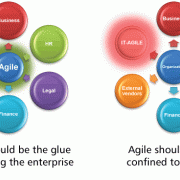 I strongly believe that adopting a particular methodology is not the answer. Rather, organizations need to fix their internal structure and the way they operate. In this article, I will discuss the challenges hindering agility and also the bottlenecks that prevent organizations from delivering business value. I focus on six phenomena that make any organization rigid, illustrating them with real-life case studies.
Not a Cutter Community Member?
Register today to read select open-access articles.