2020 Trends and Predictions — An Introduction
Posted February 19, 2020
| Leadership | Technology | Amplify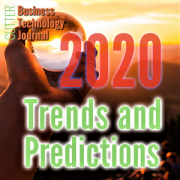 From the need for more tech­nology regulation to what technologies will be most transformative, from guidelines for keeping our data safe to minimizing the profusion of misinformation — we are sure you'll find value in the observations in this issue of Cutter Business Technology Journal. We trust that they'll give you the foresight to proceed with optimism, yet vigilance, into this new decade.
Not a Cutter Community Member?
Register today to read select open-access articles.