5 Ways to Forecast Your Cloud Spend
Posted January 14, 2021 in
Business Technology & Digital Transformation Strategies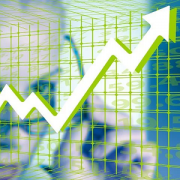 Do you need a forecast of your cloud spend? In this Advisor, I investigate five cloud spend forecast methods, with their pros and cons, to help you make a choice.
Disclaimer: Business life happens, and no model can account for every aspect of reality. A forecast is a prediction, so a forecast will always be wrong to some degree! Without exception.
Option 1: My Usage Is Constant and Planned to Stay Constant
Summary: Take the last-period consumption and assume the same for the future.
Example report: Last month, we spent US $10,000 on the cloud. There are no changes planned next month, so we expect to spend another $10,000.
Best suited for: Predictable workloads over the selected period.
Effort level: Almost null. Look at the last number and use that.
| Pros | Cons |
| --- | --- |
| Immediately available | Extremely sensitive to change |
| No effort needed |   |
| Very accurate when nothing changes |   |
Option 2: Take Last Period and Add (Remove?) X%
Summary: Take the last period number, add X% (or any other value).
Example report: Previous-year cloud costs were $100,000; based on a business growth of 20% we estimate next year to be around $120,000.
Best suited for: Providing a single number covering an extended period. Usually, to feed a financial model where the cloud costs are directly in correlation with business growth. Effort level: Low, as the % to add (or remove) should be provided by a financial model.
| Pros | Cons |
| --- | --- |
| Very fast | Very generic |
| Very easy | Very static number |
| Backed by business data (kind of) |   |
Option 3: Using AWS Cost Explorer Forecast (or Other Cloud Vendor Tools)
Summary: AWS and other cloud vendor forecasting tools.
Example report: Based on our past data and using the algorithm provided by AWS, we can estimate our cloud costs to be between $x and $y.
Best suited for: A fast, backed-by-others forecast easily presentable to non-IT.
Effort level: Low and usually self-service.
| Pros | Cons |
| --- | --- |
| Available immediately | Based only on data available to the cloud vendor, so no business connection |
| An innovative company offers the results | Future scenario modeling requires the use of additional tools (e.g., Excel) |
| The graphs look great | The methodology is unknown |
| Provides minimum, maximum, and expected values | The accuracy drops fast |
Option 4: End-of-Month Forecast
Summary: Create an end-of-month forecast based on the already-known monthly consumption and projecting the last 24 hours until the end of the month.
Example report: The most recent optimizations, introduced on the 14th, have reduced the monthly projected spend by 15%.
Best suited for: Proving the value of individual changes and to keep an eye on the impact of daily activities on the monthly budget.
Effort level: Significant as the methodology is, it is not available by default and requires extracting data from the cloud vendors and analyzing it.
| Pros | Cons |
| --- | --- |
| Available on some dashboards | Needs to be implemented |
| Great to show the impact of cloud initiatives | Data management and ETL knowledge are requirements |
| Capabilities to follow the monthly budget on a day-to-day basis | Understanding the cloud vendor's financial reporting files is a must (e.g., AWS cost and usage report) |
Option 5: Use Business Data (Sales Projections)
Summary: Identify a cloud cost per unit of work (e.g., $/user or $/transaction) and map on the financial model used in the business.
Example report: Our cloud infrastructure has a fixed cost of $100,000 per month. Each customer costs $12 per month. By using the planned growth in the sales forecast, we can project the following monthly cloud cost.
Best suited for: A dynamic representation of the cloud costs mapped on the company's units of business measure with forecasting based on a well-known financial model.
Effort level: Significant, requiring expert consultants.
| Pros | Cons |
| --- | --- |
| Converts IT slang into money, making it easy to understand for other departments | Complex to implement |
| Easy to recalculate, even daily | Requires bespoke modeling |
| By mapping cloud costs to the company units of goods sold, the results are more comprehensible to non-IT | A change in the business model requires an update in the algorithm |
| Any IT effort to reduce the cost per customer is made visible |   |