8 Key Drivers of Data-Driven Healthcare
Posted June 22, 2022
| Technology |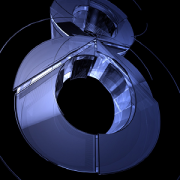 During the next decade, the healthcare industry will undergo a profound transformation as many important technologies, including artificial intelligence (AI), reach mainstream adoption. Clinical workflow will become more agile by virtue of AI and advanced analytics that automate decision-making processes. The emergence of these technologies requires a transformation from mere digital health to data-driven healthcare given the fundamental role of data in automated decision making.
In the shift toward data-driven healthcare, focusing only on new technologies is not sufficient. Indeed, how data is gathered and how stakeholders' interests are managed can enable or hinder the transformation. We have identified eight drivers of data-driven healthcare, which can be positive or negative (see Figure 1).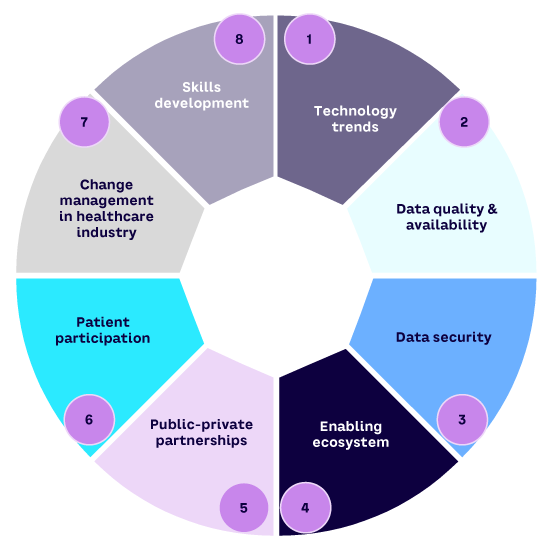 1. Technology Trends
Today's technology already enables clinicians and patients to engage more effectively together to improve health outcomes, and access to health technology is becoming a commodity. Indeed, the growing acceptance of wearable medical devices and the cloudification of the healthcare industry support the increasing use of electronic health records:
Wearables. Consumer wearables are on the rise for remote medical monitoring, with the use of medical-grade mobile devices to actively monitor patients' conditions.

Cloudification. Cloud-based storage and applications allow better communication between care teams, leading to improvement of clinical outcomes and patient experience.
These ongoing trends provide an essential foundation for the next generation of innovations, including the use of AI and precision medicine, which involves the combination of big data analytics and machine learning (ML) algorithms.
2. Data Quality & Availability
New technological devices generate huge amounts of data that can be analyzed to provide real-time clinical or medical care. To extract value from big data, the major challenge is how to make it relevant, actionable, available, and interoperable:
First comes the identification of the data needed to derive insights that promote the attainment of organizational goals. To do so, it is important to start with a business question around which to center the data initiative.

Data should provide enough insights into the future so that it becomes clear to decision makers what actions they should take. To make data actionable, data collected must be clean, complete, accurate, and correctly formatted for use across systems.

All data necessary for efficient analy­sis should be easily accessible to, and readable by, the scientific community. Incorrectly defined sharing restrictions can prevent skilled healthcare professionals from accessing pertinent patient information.

To obtain a complete view of a patient, healthcare professionals need to regularly look through data from multiple sources. For thorough data analysis, health systems should be consolidated through the definition of a homogenous communication standard.
3. Data Security
Given the massive amount of data and its value in the health sector, it is of great importance to ensure security. Data security in healthcare is complex with the aims of ensuring the secure exchange of patient information, protecting the integrity of medical applications, and controlling access to healthcare applications and systems holding personal data. Data security affects the entire healthcare ecosystem; therefore, technical measures alone cannot be a solution.
For an adequate level of data protection, it is vital to act at an organizational level, setting up a dedicated corporate figure/committee to (1) monitor and assess regulatory compliance for data processing, (2) define and update data management policies, (3) provide training for those dealing with health data, and (4) implement "secure by design" information systems. Moreover, transformation toward data-driven health­care is not limited to how data is gathered and analyzed but also involves all stakeholders in the ecosystem, including government, patients, partners, and sup­pliers of healthcare providers.
4. Enabling Ecosystem
To stimulate the development of data-driven healthcare, government must design a digital health strategy that pursues the following goals:
Support the availability of healthcare technologies and their development by facilitating investment from both public and private industry players.

Boost innovation by encouraging knowledge sharing through the creation of points of contact between stakeholders.

Encourage the creation of an integrated healthcare system focused on the patient by providing easy and broad access to information.

Promote cultural transformation and raise awareness of digital health among healthcare workers and patients.
In addition, government must assign key importance to the right to protect personal data. This right, enshrined in numerous international norms and standards, pro­vides that individuals may request that their personal data be collected and processed by third parties only in compliance with relevant legislation. In Europe, the processing of personal data is regulated by GDPR and by the regulations of individual countries. For personal health data, GDPR aims to give the data subject the power to manage his or her own data, guaranteeing control over all information, including the provision of healthcare services revealing personal information.
5. Public-Private Partnerships
Public-private partnerships are established specifi­cally to harness the potential of big data in healthcare and include partners working across the data chain. Collaboration between the public and private sectors to analyze biomedical data raises some specific ethical issues:
Legislative framework. In areas of rapid change, such as data science, practice can quickly outstrip the regulatory framework. Stakeholder acceptance of a given data use should be clearly defined.

Data ownership. Partnerships provide the chance to appropriate public data sets or extract value from accessing public data. This raises questions of ownership for both raw data and research outputs.

Commercialization of research results. The public may be hostile to the use of health data for commercial gain.
To ease ethical tensions regarding public-private partnerships' use of biomedical big data, it is important to articulate and share openly how the partnership will produce public benefit and how benefits will be distributed within the community.
6. Patient Participation
People concerned about their own care are leading the rise of data-driven healthcare. However, individuals are not always willing to share their health data with companies or the government for various reasons:
Personally identifiable information. People are reluctant to share sensitive information, in general.

Retention period of data and third-party access. The more institutions demonstrate their ability to process data, the less people are likely to share their data.

Scope of use of data. If people do not understand the benefits of sharing data, they will not share it.
We see reluctance, in particular, to share health data when looking at the uptake of contact-tracing apps developed to help reduce the spread of COVID-19. From June to October 2020, for example, only 7 million people downloaded the Italian contact-tracing app Immuni. The app targeted every Italian who owns a smartphone, or almost 44 million people.
7. Change Management in Healthcare Industry
A key factor hindering the transformation of the health­care industry is its resistance to change. Sources of this resistance arise within a change effort both when formulating the change initiative and when implementing it:
Atomistic view. Individual units fail to recognize that the overall quality of care for patients involves more than their individual effort.

Embedded ideas. There is a tendency to continue with current thoughts and routines despite changing situations.

Organizational culture. Many healthcare professionals believe they can drive change, but hierarchical structures hamper their ability.
Resisting change is common within healthcare organizations, given the implementation of generally tight and time-consuming procedures. Any type of change effort impacting patient treatment and care needs to go through many levels of management approval before official implementation.
8. Skills Development
If the healthcare industry still has a long way to go in terms of the percentage of available data that is actually put to use, this is partly due to lack of data analysis skills. Insufficient data analytics talent has been a perennial pain point for the healthcare industry, which has struggled to develop the competences required to extract valuable insight from big data.
While many organizations are starting to bridge the divide between data creation and data analytics, employees with data analytics competencies and extensive training in the intricacies of healthcare data are in high demand. Data analysts, data managers, and data stewards are needed to manage the gathering and analysis of data, while developers skilled in Agile methodologies (e.g., Scrum) are needed in software development.
[For more from the authors on this topic, see: "What's Driving Data-Driven Healthcare?"]