9 Conservation Principles: Fostering Collaboration for Nature Positive Outcomes
By
Jessica Deichmann
,
Tamia Souto
,
Alfonso Alonso
,
Farah Carrasco Rueda
,
Molly Dodge
,
Francisco Dallmeier
,
Tremaine Gregory
,
Ryan Richards
,
Chelsie Romulo
,
Hadrien Vanthomme
,
Matthew Richardson
Posted December 5, 2022
| Sustainability | Amplify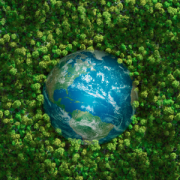 AMPLIFY  VOL. 35, NO. 11
  
ABSTRACT
Jessica L. Deichmann et al. look at the tension across knowledge areas and highlight items companies should know when engaging with ecologists and biodiversity experts. This article, based on decades of working with private sector companies on some of the most complex nature-based issues, highlights the interdisciplinary nature of ecosystem restoration and species recovery. It offers nine principles to foster positive collaborations, including an acknowledgment that small actions can make big differences and that people are a critical element of any successful conservation collaboration.
Developing, maintaining, and operating infrastructure to support the growing demands of a globalized human population threatens the survival of many species and the ecosystems on which nature and people depend. These pressures, compounded by a lack of sufficient social and ecological standards and poor enforcement of regulations, can have significant implications for biodiversity and climate change.
It is increasingly apparent that businesses must rethink their models — reevaluating and revaluing nature and its role in the global economy. Over the past decade, collaborations between academic institutions or nongovernmental conservation organizations (hereafter "conservation organizations") and for-profit businesses have become more common.1,2 Through conservation-business collaborations (CBCs), it is possible for these organizations and other stakeholders to work together, using sound science to inform strategies and develop novel and profitable ways to supply resources for human use while sustaining ecosystems that support biodiversity.3
When a corporation enters into a CBC, the main concerns of the company are usually risk aversion, economic sustainability, and profit.4,5 Even so, when a company chooses to collaborate with a conservation organization, it's often because key individuals believe the deterioration of biodiversity and ecosystem services can affect the business's bottom line. In some cases, there may also be standards for corporate social responsibility (CSR) within the company that aim to mitigate environmental impacts and have a net zero or positive effect on biodiversity.6,7
Conservation biologists aim to ensure that species, landscapes, and ecosystems endure. Many conservation biologists view CBCs as an opportunity (most would say a responsibility) to develop science-based strategies that minimize environmental impacts while meeting company goals.8 Many conservation biologists who form CBCs believe that doing so is not only a strategic step to documenting biodiversity and ecosystem services to reach conservation goals, but also an opportunity to complement and improve a business's ability to implement best practices, reduce environmental risk and uncertainty, and engage in science-based decision making.9
Interest in forming CBCs has grown on both sides, but many challenges involving cross-sector collaborations remain, not least of which are differences in goals, approaches, culture, and language between partnering organizations.10,11
Furthermore, distrust and tension can undermine the development of CBCs and prevent shared goals from being achieved.12 Cross-sector partnerships are most successful when there is trust, understanding, and appreciation for the work partners are undertaking,13 and when goals and strategies are codeveloped. To ensure attainment of a CBC's goals, organizations must seek to acknowledge differences while fostering the strengths of each partner.
Several guidelines on how to structure a CBC are available,14 but one of the more challenging aspects of forming a successful CBC is establishing a common language between partners with vastly different experiences and knowledge bases. To this end, we created a list of nine concepts and principles related to biodiversity conservation that are key to understanding the conservation perspective and improving collaborations between conservation organizations and businesses.
1. There Is a Difference Between Conservation Biology & Conservation Practice
Conservation biology is an interdisciplinary science focused on the study of species, communities, and ecosystems that are impacted by human actions. The main goal of conservation biology is to provide fundamental principles and mechanisms to preserve biological diversity and ensure its long-term viability.15 Conservation practice consists of actions to reduce threats like climate change and to maintain or improve the status of biodiversity targets.
Conservation biology produces knowledge based on scientific research, whereas conservation practice translates that knowledge into actions and involves multiple stakeholders.16 In CBCs, conservation scientists generate scientific knowledge, and businesses use this knowledge in conservation practice by implementing effective actions for conserving biodiversity (i.e., best practices).
Therefore, we can all be "conservationists," balancing science, implementation, and advocacy so that the scientific results improve standard operating procedures, best practices, and policy making in an economically feasible way that minimizes business risks and impacts to biodiversity.
2. Biodiversity Is Complex & There Is Much We Don't Know
Biodiversity consists of all the living organisms within a given system. Much of the world's diversity is still unknown to science, and there is debate as to how many species exist on Earth.17 Living organisms exhibit a great range of lifestyles. Therefore, studying their evolution, behavior, and interactions with other organisms and their environment is quite complicated, requiring replication and adaptation of methods under a variety of conditions.
Furthermore, biodiversity can be measured at multiple interconnected scales: from genetic diversity within a population to species diversity within a community to ecosystem diversity within the biosphere.
Business activities can impact one or many levels of diversity and one or more aspects of organisms' lifestyles. Biodiversity assessments are ideally done at the beginning of any project to capture baselines. These assessments should consider the level(s) of diversity and aspect of lifestyles likely to be impacted to provide an appropriate baseline of the "normal" state.
Efforts by CBCs to restore or offset losses of biodiversity must reflect the appropriate scale(s) impacted. For example, successfully restoring plants and insects in an area disturbed by company operations may require maximizing genetic diversity, species survival, and the diversity of habitats used by plant populations.18
3. Conservation of Biodiversity Takes Time & Requires Adaptive Management
Conservation goals directly relate to a species, habitat, or an ecosystem target. Each species has a particular reproductive cycle, development time, and life span that influence its persistence in a habitat and interactions with other species. Like other scientific disciplines, conservation biologists use the scientific method to answer research questions about these targets, frequently focusing on the long timescales of ecological and evolutionary processes. These timescales are often at odds with the pace at which business decisions and activities take place.
Furthermore, the scientific method is an adaptive process that can be used to test hypotheses about best practices, evaluate their validity, and adjust the hypotheses based on new data. This approach informs adaptive management, which is a method of continual monitoring to address uncertainty, evaluating the relationship between activities and outcomes and shifting management practices in light of the information from monitoring and evaluation. However, non-scientists may become frustrated when recommendations change based on new scientific evidence. Dialogues between conservation scientists and industry should seek to raise awareness of these different realities, recognize the value in taking the long view as an investment in the future, and develop short- and long-term goals for CBCs.
4. Environmental Impact Assessments Are Just the First Step
An environmental impact assessment (EIA) is a formal process required by many governments and funding agencies to predict the degree of impact an activity will have on the environment and make recommendations to mitigate those impacts. Although an EIA can contribute to documenting baseline biodiversity at a given site, the methods used to collect the data typically do not meet minimum standards to document all biodiversity of the site, and results are often not actively disseminated outside government and corporate channels. EIAs are an important first step that can complement conservation plans and/or biodiversity action plans, but they cannot replace them.
Beyond EIAs, CBCs can amplify nature positive contributions by prioritizing rigorous and repeatable scientific design for baseline, monitoring, and evaluation studies of biodiversity that can serve as a reference point to quantify anthropogenic impacts, develop and test effective mitigation measures, and recommend best practices based on sound evidence and reasoning.
5. Biodiversity Offsets Are a Last Resort
The mitigation hierarchy states that steps should be taken to avoid, minimize, restore, and offset impacts from operations.19 The first and best options are to avoid or minimize, because restoration efforts require large investments of time and money and often fall short in rebuilding ecological communities and systems to their original condition.20 It is even harder to replace ecological communities through offsets,21 and, thus far, evidence to support the efficacy of offsets to achieve no net loss (much less net gain) is lacking.22
Using offsets should be the last resort.23 Then, CBCs can help define and measure potential impacts on biodiversity and ecosystem services, assess feasibility, and account for time lags and uncertainties in a loss-gain calculation.24 Although much uncertainty remains regarding the viability of offsets,25 CBCs can ensure that the selection of an offset is based on the best available scientific data.
6. Best Practices Are Not Universal
Science-based best practices, particularly on a large scale, have the potential to substantially reduce environmental impacts of a business's activities.26 However, best practices are industry-specific and often site-specific.
For example, long pipelines (>100 km) may cross through a number of ecosystems or habitats. Best practices along such infrastructure must consider factors like the different species and different climatic conditions between the habitats crossed.27 Moreover, the distribution and abundance of species and habitats are influenced by political and economic trends and local human inhabitants (e.g., history of human presence, human-human conflict, preexisting human-wildlife conflict, illegal activities).28
Therefore, it is critical to compare the ecological, sociopolitical, and historical context in which a best practice was developed to the context in which it will be used. A CBC can identify ways to adjust best practices for local application. Most importantly, the efficacy of best practices should be reevaluated over time, with adjustments made intermittently to adapt as contexts change. To share lessons learned and improve global adaptive management practices, businesses should encourage conservation partners to disseminate all outcomes of collaborations in peer-reviewed publications and make data publicly accessible.
7. It's About People & It's About Nature
People living close to or within rich biodiversity areas are likely to have a deep understanding of natural resources and be dependent on them and other ecosystem services for their well-being.29 CBCs must fully evaluate and integrate the role of local and indigenous peoples because they have the knowledge, interest, and right to become effective partners in CBCs;30 social impact and prior informed consent form a core tenet of most CSR strategies.
CBC projects that consult, engage, and empower local and indigenous peoples have a greater potential to achieve positive conservation and development outcomes.31 CBCs should also include an interdisciplinary team of experts and incorporate essential contributions from social scientists.32 This will enhance a CBC's ability to build capacities and strengthen the roles of local and indigenous peoples as active decision makers in every activity that impacts their land, territories, and resources.
8. Small Actions Can Make Big Differences
Biotic communities are interconnected, so an impact on one component may affect other parts (in positive and/or negative ways). Likewise, some impacts accumulate over time and may not be immediately apparent. For example, non-native diseases or an invasive species may be inadvertently introduced into an area during a business's activities and become apparent only after several years.
CBC impact assessments and monitoring plans must consider potential effects in multiple dimensions of size, space, and time. Ideally, a CBC will maintain updated, comprehensive baseline surveys to help identify impacts of actions (positive and negative, intentional and unintentional) and will maintain constant dialogue regarding potential adaptive operational adjustments over the course of a business's activities.
Small actions and considerations for conservation can also have positive impacts on biodiversity and societies. Early identification of positive actions may lead to more cost-effective and environmentally friendly strategies. For example, giving talks in work camps about the importance of biodiversity for everyone, and placing signs to remind workers that hunting, fishing, and collecting are not allowed in areas of operations, can raise awareness among decision makers on the ground.
Something as simple as adjusting the color and spectrum of outdoor lighting can moderate the number of arthropods attracted to a facility and reduce mortality.33,34 On a larger scale, leaving intact trees that connect to form natural canopy bridges above a pipeline, which adds minimal additional costs if implementation is planned in advance, provides movement corridors for arboreal mammals and may reduce the effects of forest fragmentation.35
9. The Triple Bottom Line Accounts for Sustainability
The "triple bottom line" is a type of full-cost accounting that allows for a more accurate analysis of profits and losses by including social and environmental costs and returns incurred by business practices.36 Resilience, the capacity of a system to absorb shock, resist damage, and recover quickly, is a desired component of social, environmental, and financial systems.
Many proactive businesses have adopted the triple bottom line, or a similar CSR policy, because it can lead to more sustainable and resilient business practices. However, these newly adopted accounting and policy statements have not always led to large benefits for biodiversity and ecosystem services.37
Conservation social scientists have the expertise not only to help measure profits and losses in the social and environmental dimensions, but also to make suggestions that are more likely to lead to positive outcomes.38,39 Conservation biologists can evaluate the resilience of ecosystems, identify thresholds indicating when systems are no longer resilient, and use this knowledge to develop management practices. Through these parallel activities, CBCs can make strides toward developing more accurate accounting metrics to calculate the triple bottom line, safeguard biodiversity, and promote sustainable development.
Final Remarks
Faced with the dual climate and biodiversity crises of the Anthropocene, we all must reassess our nature positive strategies and search for ways to collaborate if we are to develop viable solutions.40 Business can be a leader in helping to achieve global goals for nature and sustainability through CBCs, which can serve as models that promote best practices and good actors while contributing to nature positive economies.
Although not all-inclusive, the principles presented here are key to building a common language that can be used to improve dialogue between conservation organizations and corporations seeking to enter into a conservation partnership. We hope this list of conservation principles sheds light on the decision-making process of conservationists and helps to prevent misinterpretations and improve the long-term productivity and success of CBCs.
References
1  Deichmann, Jessica L., and Alfonso Alonso. "Finding Best Practices for Fossil Fuel Extraction." Science, Vol. 342, No. 6164, 13 December 2013.
2  Robinson, John G. "Common and Conflicting Interests in the Engagements Between Conservation Organizations and Corporations." Conservation Biology, Vol. 26, No. 6, December 2012.
3  Kareiva, Peter, and Michelle Marvier. "What Is Conservation Science?" BioScience, Vol. 62, No. 11, November 2012.
4  Ervin, David, et al. "Motivations and Barriers to Corporate Environmental Management." Business Strategy and the Environment, Vol. 22, No. 6, 24 September 2013.
5  Selsky, John W., and Barbara Parker. "Cross-Sector Partnerships to Address Social Issues: Challenges to Theory and Practice." Journal of Management, Vol. 31, No. 6, December 2005.
6  "Biodiversity." Chevron, accessed November 2022.
7  "Materials Can Change Our Lives." Toray Group CSR Report, 2017.
8  Alonso, Alfonso, Francisco Dallmeier, and Grace P. Servat (eds.). Monitoring Biodiversity: Lessons from a Trans-Andean Megaproject. Smithsonian Institution Scholarly Press, 2013.
9  Kareiva and Marvier (see 3).
10 Rondinelli, Dennis A., and Ted London. "How Corporations and Environmental Groups Cooperate: Assessing Cross-Sector Alliances and Collaborations." Academy of Management Perspectives, Vol. 17, No. 1, February 2003.
11  Selsky and Parker (see 5).
12 Rondinelli and London (see 10).
13 Shaw, Mary M. "Successful Collaboration Between the Nonprofit and Public Sectors." Nonprofit Management and Leadership, Vol. 14, No. 1, Fall 2003.
14 For example, see: Conservation Gateway (The Nature Conservancy) website, 2022; Sterne, Rod, Deborah Heaney, and Bruce Britton. "The Partnership Toolbox." WWF, accessed November 2022; and "The Partnering Toolbook: An Essential Guide to Cross-Sector Partnering." The Partnering Initiative (TPI), 2011.
15 Soulé, Michael E. Conservation Biology: The Science of Scarcity and Diversity. Sinauer Associates, 1986.
16 Habel, Jan Christian, et al. "Mind the Gaps When Using Science to Address Conservation Concerns." Biodiversity and Conservation, Vol. 22, No. 10, August 2013.
17 Larsen, Brendan, et al. "Inordinate Fondness Multiplied and Redistributed: The Number of Species on Earth and the New Pie of Life." The Quarterly Review of Biology, Vol. 92, No. 3, September 2017.
18 For example, see: Lesica, Peter, and Fred Allendorf. "Ecological Genetics and the Restoration of Plant Communities: Mix or Match?" Restoration Ecology, Vol. 7, No. 1, March 1999; Richardson, Matthew L., and Lawrence M. Hanks. "Differences in Spatial Distribution, Morphology, and Communities of Herbivorous Insects Among Three Cytotypes of Solidago Altissima (Asteraceae)." American Journal of Botany, Vol. 98, No. 10, October 2011; and Peterson, Cheryl L., et al. "Parent Genotype and Environmental Factors Influence Introduction Success of the Critically Endangered Savannas Mint." PLoS ONE, Vol. 8, No. 4, April 2013.
19Business and Biodiversity Offsets Programme (BBOP) website, 2022.
20 Mitsch, William J. "When Will Ecologists Learn Engineering and Engineers Learn Ecology?" Ecological Engineering, Vol. 65, April 2014.
21 McKenney, Bruce A., and Joseph M. Kiesecker. "Policy Development for Biodiversity Offsets: A Review of Offset Frameworks." Environmental Management, Vol. 45, No. 1, November 2009.
22 For example, see: Josefsson, Jonas, et al. "Compensating for Lost Nature Values Through Biodiversity Offsetting — Where Is the Evidence?" Biological Conservation, Vol. 257, May 2021; Gibbons, Philip, et al. "Outcomes from 10 years of Biodiversity Offsetting." Global Change Biology, Vol. 24, No. 2, November 2017; and zu Ermgassen, Sophus O.S.E., et al. "The Ecological Outcomes of Biodiversity Offsets Under 'No Net Loss' Policies: A Global Review." Conservation Letters, Vol. 12, No. 6, July 2019.
23 For example, see: BBOP (see 19); and Sahley, C.T., et al. "Quantifying Impact Reduction Due to Avoidance, Minimization, and Restoration for a Natural Gas Pipeline in the Peruvian Andes." Environmental Impact Assessment Review, Vol. 66, September 2017.
24 Maron, Martine, et al. "Faustian Bargains? Restoration Realities in the Context of Biodiversity Offset Policies." Biological Conservation, Vol. 155, October 2012.
25 Gonçalves, Bárbara, et al. "Biodiversity Offsets: From Current Challenges to Harmonized Metrics." Current Opinion in Environmental Sustainability, Vol. 14, June 2015.
26 Finer, Matt, Clinton N. Jenkins, and Bill Powers. "Potential of Best Practice to Reduce Impacts from Oil and Gas Projects in the Amazon." PLoS ONE, Vol. 8, No. 5, May 2013.
27 Alonso et al. (see 8).
28 Halpern, Benjamin S., et al. "A Global Map of Human Impact on Marine Ecosystems." Science, Vol. 319, No. 5865, 15 February 2008.
29 Berkes, Fikret. Sacred Ecology: Traditional Ecological Knowledge and Resource Management. Taylor & Francis, 1999.
30 Souto, Tamia, et al. "Classifying Conservation Targets Based on the Origin of Motivation: Implications over the Success of Community-Based Conservation Projects." Biodiversity and Conservation, Vol. 23, No. 5, 7 March 2014.
31 Sayer, Jeffrey, et al. "The Role of Citizen Science in Landscape and Seascape Approaches to Integrating Conservation and Development." Land, Vol. 4, No. 4, December 2015.
32 Bennett, Nathan J., et al. "Social Science for Conservation in Working Landscapes and Seascapes." Frontiers in Conservation Science, Vol. 3, August 2022.
33 Longcore, Travis, et al. "Tuning the White Light Spectrum of Light Emitting Diode Lamps to Reduce Attraction of Nocturnal Arthropods." Philosophical Transactions of the Royal Society B: Biological Sciences, Vol. 370, No. 1667, May 2015.
34 Deichmann, Jessica, et al. "Reducing the Blue Spectrum of Artificial Light at Night Minimises Insect Attraction in a Tropical Lowland Forest." Insect Conservation and Diversity, Vol. 14, No. 2, March 2021.
35 Gregory, Tremaine, et al. "Natural Canopy Bridges Effectively Mitigate Tropical Forest Fragmentation for Arboreal Mammals." Scientific Reports, Vol. 7, No. 1, June 2017.
36 Elkington, John. Cannibals with Forks: The Triple Bottom Line of 21st Century Business. Wiley, 1999.
37 Robinson (see 2).
38 Deichmann et al. (see 34).
39 Bennett, Nathan J., et al. "Conservation Social Science: Understanding and Integrating Human Dimensions to Improve Conservation." Biological Conservation, Vol. 205, January 2017.
40 Kueffer, Christoph, and Christopher N. Kaiser-Bunbury. "Reconciling Conflicting Perspectives for Biodiversity Conservation in the Anthropocene." Frontiers in Ecology and the Environment, Vol. 12, No. 2, September 2013.
© 2022 Smithsonian