Accelerating Business Transformation, How Vertical Farming Can Contribute to Biodiversity Conservation, more!
Posted August 29, 2023
| |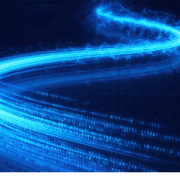 29 August 2023
Welcome to The Cutter Edge. In each free issue, you'll find research, insight, and advice crucial to helping you navigate the spectrum of challenges technology change brings.

Discover the greatest IT productivity limiters, and what concrete actions your CIOs/leaders can take to eliminate them and enable your business to transform faster. More!

Discover three guiding principles that can help vertical agriculture businesses contribute to biodiversity conservation and meet the growing call to reduce agricultural expansion into wildlife habitats.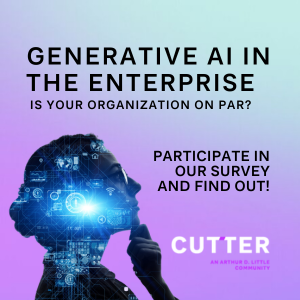 Participate in our Emerging Technology Readiness survey to help us identify these critical trends and gain valuable insights into how your organization's strategies compare to practices worldwide!

Get the expert thinking, debate, and guidance to help your organization reposition and transform in the era of sustainability and attract employees and investors who value purpose and social responsibility. Subscribe to the bi-weekly Sustainability Advisor!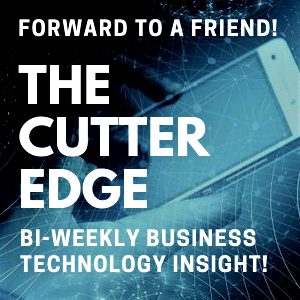 Don't keep The Cutter Edge a secret! Forward this issue to your colleagues and give them the opportunity to receive the leadership, industry, and technology-driven insight that matters most, every other Tuesday — FREE!
The Cutter Edge is a free biweekly email service that gives you information and advice that you can put to work immediately for your organization. Issues are written by Cutter Consortium's Senior Consultants, Fellows and journal authors.