Accelerating the Journey to Net Zero with Digital Twins
Posted April 30, 2023
| Technology | Amplify
AMPLIFY  VOL. 36, NO. 4
  
ABSTRACT
Sustainability has become a recent focus for digital twins. David McKee and Tim O'Callaghan present a case study from a UK town using digital twins to achieve its net zero obligations. The authors discuss the use of tools to visualize historical data and utilizing new data from various sources to simulate possible outcomes and manage risk.
The world's chances of avoiding the worst effects of climate change are rapidly decreasing due to our failure to reduce greenhouse gas emissions. We can only reach the emissions levels necessary if every business, city, and region moves rapidly toward its net zero obligations.
Digital twins can become a key tool in this mission, prompting action by providing data and insights on our current state and helping simulate varied future scenarios. Most importantly, these technologies can help hold us accountable.
The NN2NZ project in North Northamptonshire, England, UK, kickstarted a regional decarbonization journey by providing a digital twin platform based on 12 stakeholder questions (see Table 1).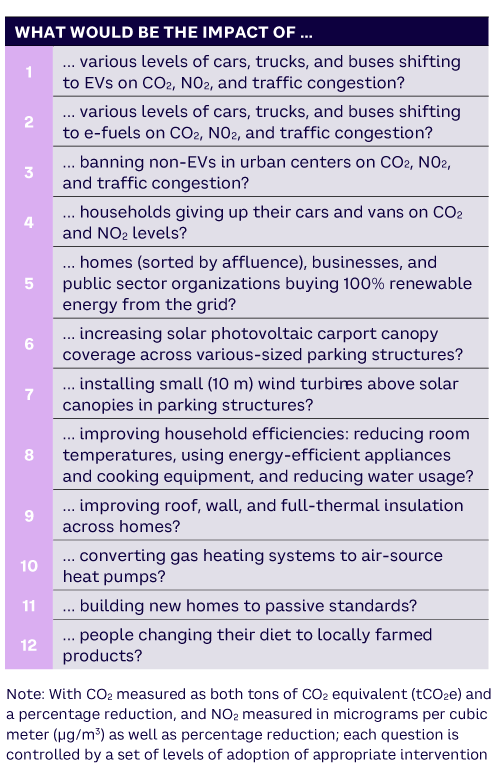 The twin is designed to unify data, provide a framework for consistent monitoring of interventions through 2030, and provide visualization tools for interactive engagement with a diverse set of stakeholders. The project includes interventions for transportation, buildings, energy systems, and food and farming.
A significant part of combating climate change involves our cities becoming net zero. This journey must be considered from multiple perspectives, including transportation and mobility, infrastructure such as housing, and supply chains for the region and local businesses. As United Nations Secretary General António Guterres puts it: "We urgently need every business, investor, city, state and region to walk the talk on their net zero promises. We cannot afford slow movers, fake movers or any form of greenwashing."1
Without a holistic perspective, we risk making decisions that in isolation make a positive impact but collectively make the situation worse. Unfortunately, that holistic perspective is incredibly complex, involving hundreds of trade-offs to find even a local optimum. The volume of data (often in disparate unstructured formats) presents an additional barrier to exploring solutions and adds to the complexity and expense of (traditional) analytics and simulation tools.
As technology for things like electric vehicles (EVs) advances, automation merges with increasingly interdependent environmental, safety, accessibility, economic, and health requirements — and the number of highly complex potential intervention scenarios escalates. Even just evaluating the approach to decarbonizing transportation (with levels of necessary investment) is labor-intensive, time-consuming, and costly to the extent that stakeholders often have to make decisions before the analysis is complete. After the decision is made, there may be no way to ensure a positive impact or hold governments and companies accountable.
In this article, we describe how a partnership between Slingshot Simulations and Electric Places in North Northamptonshire developed a way to rapidly prototype a digital twin that can accelerate: (1) the time to assimilate and analyze disparate data sets, (2) the time to decision-making, and (3) the time to intervention. We examine the challenges of data integration, data visualization for inclusive stakeholder engagement, and orchestrating analytics and simulations.
Project NN2NZ
North Northamptonshire, with a population of 350,000, is a mixture of large market towns and more than 100 villages with a strategic growth plan through 2031 for 31,100 new jobs and 35,000 new homes. The aim of the NN2NZ project was to create a cost- and risk-adjusted road map for North Northamptonshire to achieve an equitable transition to net zero ahead of 2050.
The initial challenges were:
Determining how to create a holistic view from hundreds of data sets

Deciding which interventions to prioritize

Determining how to link intervention to impact on a data and evidence basis

Determining how to forecast scale and impact over time against the greenhouse gas (CO2e) gap

Determining how to interactively engage a diverse set of stakeholders ranging from policy makers to the general public
The digital twin incorporates data from thousands of low-carbon projects, technologies, and behavior initiatives, along with the carbon-saving impact of the interventions (see Figure 1). It might consider, for example, what if:
Every south-facing roof had solar

Every parking structure had solar and wind

People gave up their second cars

No one drove to work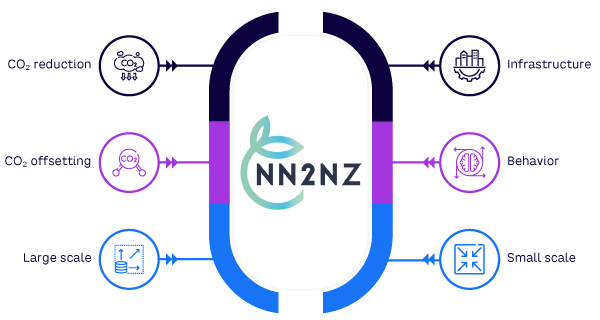 In this project, the role of the digital twin is to:
Aggregate data from diverse source for evidence-based decision-making. This includes land use, traffic data, building energy performance, social and demographic indicators, census data, and 3D data like roof shapes.

Analyze and simulate potential interventions to understand the trade-offs between impact and timing of interventions so that location-specific quick wins can be considered.

Interpret and communicate through visualizations, such as heat maps, red/amber/green (RAG)-rated infrastructure, and interactive 3D models.

Optimize multiple constrained objectives and give all stakeholders (planners, city councilors, developers, and the public) the ability to "optioneer" net zero futures, regardless of their analytical expertise or lack thereof.

Monitor and respond to the positive or negative impact of interventions in real time.
Building the Digital Twin in North Northamptonshire
The digital twin was built using Slingshot Simulation's platform with a four-step process: aggregate, analyze, interpret, and explore.
First, all relevant, available historical data was sourced and integrated into a knowledge graph, taking into account three dimensions: time, space, and context. This was stored in a structured data lakehouse where the disparate data sets were automatically linked to each other based on those dimensions (see Figure 2).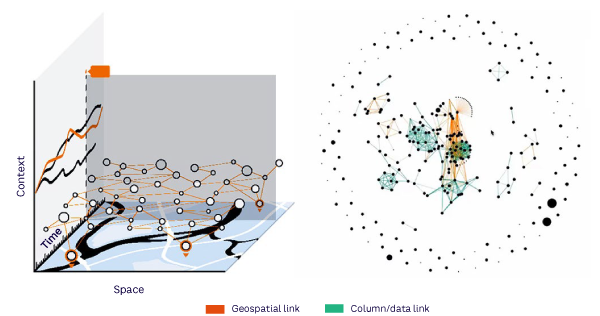 Second, an analytics platform was used to bring together statistical pre- and post-processing, geospatial analytics, and traffic simulations. For the pilot project, 23 analytics workflows were built so a variety of interventions could be explored.
Third, to interpret the impact of interventions, each workflow incorporated the "impact factors" of the intervention, such as CO2e reduction. Each intervention was attached to a slider control to allow users to dial an intervention up or down for exploration. Figure 3 shows the baseline transport simulation configuration that uses the open source Apache Sumo transport simulator to look at the impact of emission zones on CO2.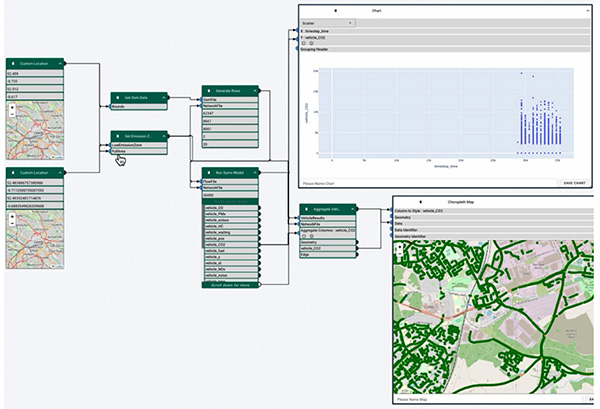 Figure 4 shows the impact from Question #9 in Table 1 — insulating walls. With a target adoption of 75% of households, the impact is a reduction of 376 tCO2e per year, but a more likely result taking into account affluence shows a lower impact: only 146 tCO2e per year.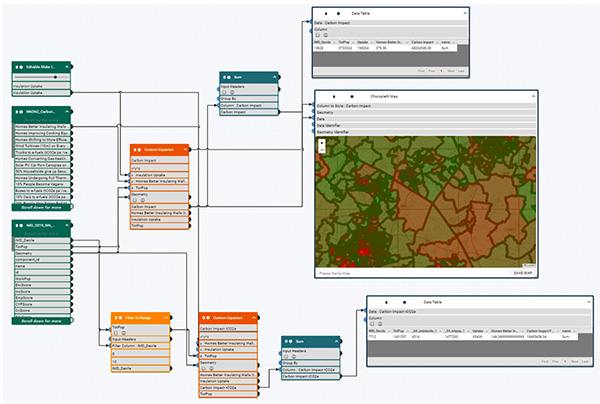 Finally, the results are explored visually using RAG networks, choropleth maps, and 3D models. For example, Figure 5 shows the relationship between:
Land use of council-managed and privately owned assets

Energy systems, including both power distribution substations and EV charging infrastructure

Walking and cycling network for active mobility

Environmental factors like rainfall and flooding

In this way, for areas most at risk of flooding, the impact of that on infrastructure and the impact on specific communities in the region become apparent. Virtual reality and 3D flyovers were used to engage the broader community, giving community members the opportunity to explore the impact of interventions on their lives without needing data science skills.
The tools allowed stakeholders to perform options analysis to understand the impact of interventions on the carbon gap with consideration for social demographics and the best areas to target first. Figure 6 shows the potential impact of heat pumps on carbon emissions with respect to the carbon gap at key dates of 2030, 2040, and 2050. This is shown holistically and broken down by household affluence, with more affluent households being significantly more likely to be able to afford the installation costs.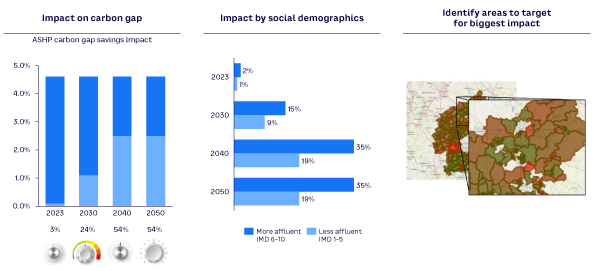 Next Steps for North Northamptonshire
With the first phase of the net zero journey for North Northamptonshire well under way, the digital twin is being used to assess and plan the first round of interventions. The next phase involves creating a simpler user experience that sits above the workflow no-code notation to allow non-data scientists to quickly "optioneer" scenarios across the set of 12 net zero questions being asked.
The team hopes to take a natural language approach in which each intervention is stated as a simple question with dials that can be adjusted and automatically ranked against the most significant factors. For example, looking back at the original 12 questions, a user might want to know: "What is the impact of CO2 emissions if EV adoption increases to 30%?"
Reference
1 Starbuck, Amanda, et al. "Integrity Matters: Net Zero Commitments by Business, Financial Institutions, Cities and Regions." The High Level Expert Group on the Net Zero Emissions Commitments of Non-State Entities, United Nations (UN), accessed April 2023.