Adapting Organizational Structures to Drive Digital Transformation
Posted July 22, 2020
| Leadership | Amplify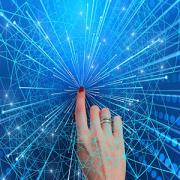 Analog-native companies that have reached high digital maturity levels share a common characteristic: an enabling organization. Without this quality, companies face the risk of entrenched silo mindsets and a lack of collaboration, leading to wasted investments and, ultimately, failure of their digitalization efforts. From our experience in working with many analog-native organizations on digital transformation, we have found that four key questions need to be addressed to ensure success (see Figure 1):
How can we adapt organizational structures to accelerate transformation and become more digitally mature?

How can we ensure company-wide digital governance and investments?

What are the skills, competencies, and roles required for a digital business model?

What cultural shift is required to build a fundamental competitive advantage over digital competitors?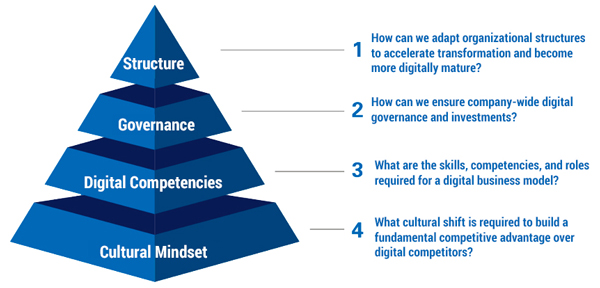 This Advisor takes a closer look at the first key point: adapting organizational structures to accelerate digital transformation. 
To match the agility and customer centricity of digital players, analog-native companies need to break down their legacy functional silos and improve their overall structure. They must create organizations that foster cross-functional collaboration with processes (e.g., product development) that flow seamlessly across departments, enabling the digitalization of products, processes, and touchpoints in an end-to-end manner. Collaboration needs to stretch outside the organization to ecosystem partners and customers as well as internally throughout the organizational structure. 
The choice of which organizational model to adopt to facilitate digitalization depends on multiple factors, including current digital maturity, intended target picture, urgency of change, and risk aversion. Figure 2 illustrates four generic models: (1) central, (2) integrated, (3) hybrid, and (4) centrally facilitated and fully integrated model. Each has specific pros and cons; the most appropriate model for any one company will depend on its specific context and objectives.


Digitally aware organizations embarking on digital transformation may start with central models. This brings clear accountability and transparency at the expense of a possible "us-vs.-them" relationship with the wider organization. An integrated model overcomes this issue, providing greater momentum for change. However, it risks creating alignment issues due to unclear accountability and the difficulty of following a common vision. The hybrid model combines the positives of the central and integrated models but is more complex and difficult to deliver. Finally, the most digitally mature structure, the end state for many digital-native companies, is a centrally facilitated and fully integrated model. In this context, digital is fully embedded in the business model, products/services, processes, and mindset of the company.
Very few analog-native companies have yet to create dedicated organizational structures that facilitate digitalization. For many organizations, top management is still collectively responsible for both developing the digital strategy and steering the implementation.
[For more from the authors on this topic, see "Four Key Questions Along the Path to Digital Transformation Success."]