AI, Digital Identification & Fraud Prevention Trends
Posted August 10, 2021 in
Data Analytics & Digital Technologies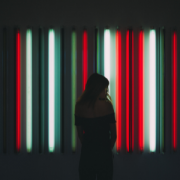 Higher expectations of customer service and trends in online fraud are forcing government agencies and businesses alike to modernize their digital identity management systems as more people engage with online services. As we explore in this Advisor, this includes employing applications — in the form of cloud platforms and services licensed from commercial providers — that integrate machine learning (ML), machine vision, and biometrics combined with mobile access in order to automate the verification and authentication of government-issued IDs and other documents.
This has been an ongoing trend for some time now, but one that has drastically accelerated over the past 18 months primarily due to the COVID-19 pandemic. A good example of such platforms is provided by ID.me, which offers its namesake product that uses ML, machine vision, proprietary rules, and a document library to automate the authentication of ID documents.
ID.me is designed to allow applicants applying online to prove who they say they are by using a streamlined process to authenticate their identity documents. Of course, individuals who are not able to authenticate their identity using the automated process can do so in a virtual, in-person session. ID.me's platform has proved popular among US federal and state government agencies (e.g., the State of California and the US Department of Veterans Affairs), social media companies (e.g., LinkedIn), computer manufacturers (e.g., Lenovo), and other companies. Even the rock band KISS is using ID.me.
ID.me at the California Employment Development Department
The State of California's Employment Development Department (EDD) deployed the ID.me platform in 2020 in order to expedite the process of verifying the identities of claimants who were filing for state unemployment benefits at the height of the COVID-19 pandemic and to help reduce a huge backlog of unprocessed applications. The department also implemented ID.me to help eliminate fraudulent unemployment claims. US state employment development departments have been absolutely hammered by unemployment fraud during the pandemic. If you want a good understanding of just how massive unemployment fraud has been in the US during this time, I suggest you check out this excellent article from ProPublica.
The ID.me system operates by scanning, parsing, and extracting the content from driver's licenses, state identification cards, and passports. Next, it applies machine vision to scrutinize the photo on an ID. This includes correcting bad angles/perspective, blurriness, and light reflection on photos, all of which can cause automated document verification systems to fail. Machine vision also validates other document attributes (e.g., to check if a photo such as a state license or government passport has been altered or by comparing the document's design against official templates).
To help prevent criminals from using stolen document images, ID.me's document verification is combined with real-world identity corroboration using a selfie. This requires the user to take a photo of his or her identity document (e.g., driver's license, passport, or state ID) and a quick selfie. The application then applies facial recognition combined with biometric-matching capabilities to compare the picture of the applicant on the document to the selfie.
KISS and ID.me
The rock band KISS used ID.me to provide a quick way to accurately verify the military status of buyers online as part the band's effort to offer discounted tickets for their performances to US military personnel. Basically, ID.me allowed military customers to verify (in real time) their eligibility for the KISS promotion and buy their tickets online in advance. This resulted in 4,000+ tickets sold during the one-day military presale event. (Learn more about this application here.)
Conclusion
Make no bones about it, government agencies, businesses, and other organizations will increasingly turn to artificial intelligence (AI)–based digital ID authentication and fraud prevention platforms as more services go online to meet the expectations of citizens and customers and to help reduce incidences of digital fraud.
The use of such platforms, however, is not without risk. Data collection and sharing are obvious issues with such systems — especially when involving the use of commercially-licensed cloud platforms and services (as is the current trend). Moreover, these issues are exacerbated when personally identifying information from facial recognition and biometric systems comes into play. Also, it's important to keep in mind that government agencies are often held to higher standards when it comes to data collection and sharing compared to private organizations. All organizations should also consider the accuracy and fairness of the AI algorithms used in commercial platforms and whether they have any built-in biases regarding ethnicity, gender, sexual orientation, and so forth. Avoiding such issues requires the careful examination of any commercial platform/service licensed for use. To help alleviate these and other concerns, government agencies, businesses, and other organizations should provide well-defined, transparent policies spelled out in an easy-to-read, straightforward manner to end users prior to their engaging with such systems.
Finally, I'd like to get your opinion on the use of AI for digital identification and fraud prevention. As always, your comments will be held in strict confidence. You can email me at experts@cutter.com or call +1 510 356 7299 with your comments.