Assessing and Managing Risk in the Time of Coronavirus: Part 1 — Changing Organizational Risk Behavior
Posted March 25, 2020 in
Business Technology & Digital Transformation Strategies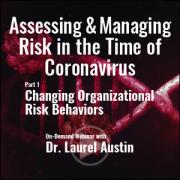 The coronavirus outbreak is forcing executives, managers, policy makers, and the rank-and-file within organizations worldwide to quickly assess the risks they face and make business- and life-impacting decisions. In Part 1 of this 2-part webinar series, Dr. Laurel Austin reviews how we manage risk, and practices we need to employ to help us overcome common errors in how people perceive, assess, and react to risks they face.
Not a member?
Gain Access to the Cutter Experts today —
register now to read select open-access articles.