Assessing the Value of EA with Metrics
Posted February 10, 2021
| Technology | Amplify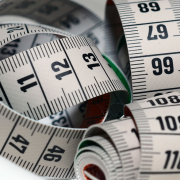 Measurement is not a new concept. We deal with measurement in some form or another in our daily lives. When talking about metrics for business processes, we can sum up the concept with the well-known statement, "What gets measured, gets managed," or "What gets measured, gets done." The term "metrics" refers to a series of measurement steps: defining the measure, deciding how the measurement will be carried out (which may involve mathematical calculations), choosing who will be involved in the measuring process, and knowing the source/origin of the data.
The key to digital transformation is not just data, but also people with the proper business knowledge and perspectives to utilize the data for strategic advantage. Digital transformation is essentially collecting data from multiple sources, aggregating and analyzing that data to gain insight, then acting on that accrued knowledge for a better awareness of the business environment. This improved awareness allows organizations to make better-informed strategic decisions.
In the past, people who understood the business typically did not understand enterprise technology that well and relied on the advice of IT people who typically did not understand the business that well. This segmentation of understanding does not work in today's world, where technology is integral to almost everything we do. Today, we need enterprise architect (EA) professionals who understand business as well as they understand enterprise technology (and perhaps report into a business function such as strategic planning). We also need EA value measurement systems that demonstrate a sophisticated level of business understanding and integration. Moreover, this requires a segmentation in thinking about IT, separating the strategic uses of IT for business strategy execution (strategic IT) from basic infrastructure IT needed to "keep the lights on"; the latter is often outsourced in today's world and generally focuses solely on efficiency and effectiveness.
A systematic and solid corporate performance management process is of paramount importance for organizations to survive in the age of digital transformation, and a vital part of performance management is metrics. Corporate performance metrics provide a picture of the health of an area under scrutiny within an organization, identify strengths and weaknesses, and enable the detection of processes that deviate from normal behavior (e.g., fault detection, risk analysis). Organizations rely on metrics to assess and improve customer satisfaction, time-to-market factors, and other innovative processes for improving their performance. Numerous research studies have shown the impact of using metrics within organizations (e.g., customer metrics, financial performance metrics, and organizational performance metrics). Defining and utilizing the right set of metrics is critical for digital organizations.
Numerous studies discuss the need for evaluating the business value generated by IT services and propose methods for doing this. However, EA value evaluation should be based on more than just the business value analysis of IT services. It requires greater comprehensive analysis encompassing constructs across an entire organization. Every organization has its own customized measurement process depending on its needs and management decisions. While numerous studies illustrate the ongoing necessity for measuring IT efforts using value metrics, very little research has been done on evaluating a metrics program itself. One of the major steps in defining a measurement process for an organization is effectively identifying the business goals of an organization.
When compared to EA value metrics, research on software metrics is more mature, as the tools to gather and analyze software metrics have been developed and used for a longer period of time. However, organizations lack robust measurement techniques to carry out measurement for EA. While many organizations focus predominantly on EA frameworks and tools, there is typically very limited attention given to assessing or evaluating the value of EA itself through the use of metrics or measures. In addition, there has been very little research conducted in academia related to measurement processes of value in EA. Popular measurement approaches such as the balanced scorecard have been applied in the context of EA value measurement. Another study involves techniques to measure the corporate value from EA. Probability models have also been used to analyze the impact of EA in organizations. Although such methods that discuss value measurement for EA certainly exist, most assume that a common set of metrics will work for all organizations and fail to consider that different organizations have different value sets that require different measures.
[For more from the author on this topic, see "A Guide to EA Metrics for the Digital Enterprise: The Strategic Use of Value Metrics."]