ATEM: An Agile Model for Evaluating Teamwork Effectiveness
Posted June 16, 2022
| Leadership |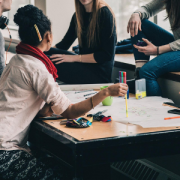 Teamwork is critical in many industrial sectors. When creating complex software solutions, most companies and public institutions organize work within cross-functional teams and follow the principles of Agile development. This approach to knowledge-intensive work seeks to empower team members, ensures that the most competent people make decisions, and manages uncertainty by allowing members to learn and adapt as work progresses.
Agile methods offer much guidance on teamwork. The "Principles Behind the Agile Manifesto" highlight self-organized teams and face-to-face conversations which, according to the principles, is "the most efficient and effective method of conveying information." More­over, "a great development team," according to a white paper on scrum teams, "trusts each other" and "pursues technical excellence."
Advice is abundant. For example, Google's re:Work model offers advice to development teams in the form of five key factors for successful teams, including "psychological safety," "structure and clarity," and work that the team members consider meaningful. There is also general advice from years of studies of teamwork and from empirical studies on Agile development teams. However, there has yet to be a model that draws together the knowledge from all these sources and specifically focuses on the effectiveness of Agile teamwork.
To fill this gap, we have developed an Agile Teamwork Effectiveness Model (ATEM). Our model is based on a review of empirical studies on Agile development teams, general studies of effective teams and teamwork, and practitioner advice. We also incorporated findings from our own two case studies and 22 focus groups. Though primarily intended for colocated Agile soft­ware development teams, the increasing adoption of Agile methods outside IT departments may make the model valuable for other Agile workplaces.
Why Do We Need a Team Effectiveness Model?
Team effectiveness refers to how team members inter­act to accomplish their project's goals, while delivering quality work within budget and on schedule. Ineffective teamwork is detrimental — it can reduce job satisfac­tion, interfere with team learning, generate knowl­edge and skill silos, and generally impede progress.
Teamwork effectiveness models are based on accum­ulated empirical observations and reasoned arguments, and identify and describe key factors necessary for effective teamwork. Our model, tailored for Agile practitioners, offers insights into effective Agile teamwork and explains how certain Agile practices support it.
The ATEM builds on the Big Five model of team­work effectiveness. It consists of three coordinating mechanisms that facilitate and support five teamwork components critical for team effectiveness (see Figure 1). The ATEM includes observable behaviors that prac­titioners can use to evaluate teamwork effectiveness (see Table 1) and, if necessary, make informed decisions to improve it.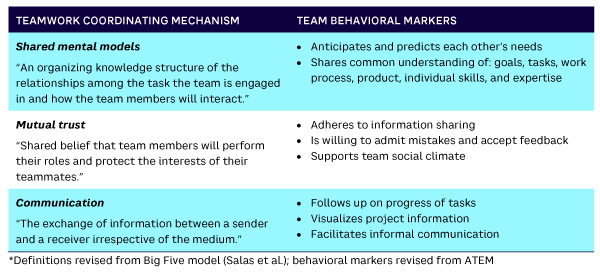 [For more from the authors on this topic, see: "Right Thoughts & Right Action: How to Make Agile Teamwork Effective."]