Beyond Automation: AI, ML & RPA — Opening Statement
Posted June 23, 2020
| Leadership | Technology | Amplify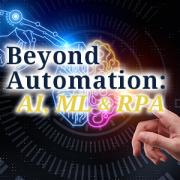 We present in this issue of CBTJ a set of five articles that provide actionable insights on topics of current interest to professionals and executives. We hope the articles inspire and encourage you to harness advanced automation in your domain of interest.
Not a Cutter Community Member?
Register today to read select open-access articles.