The Biggest Digital Transformation Risk Is Human
Posted February 4, 2021 in
Business Technology & Digital Transformation Strategies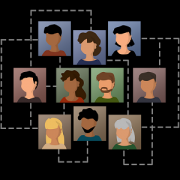 Digital transformation is the hottest trend and spend in technology circles these days. But how can employees possibly transform a business that they don't fully understand?
Companies may have ample tech skills, but functional experts often fall short when asked to be strategic difference makers. That is a major problem with most grand-scale initiatives.
Digital transformation risks being the latest, frustrating "IT project" remembered for inflated promises, cost overruns, and few results. Executives and tech leaders can rewrite that narrative by realizing that success depends far more on how they develop people than how they deploy technology.
Technology Alone Cannot Transform a Business
Before the COVID-19 crisis, when asked about top risks, C-suite executives routinely cited the economy, regulation, and cybersecurity — safe, logical choices. Off the record, many wondered if they really had the right people.
The pandemic quickly exposed every company's weaknesses. Resiliency failures were seeded long ago in functional silos, operational efficiency goals, and risk management designed to avoid "what could go wrong." Many workplace meetings were concerned more about messaging and how things look or sound than the clarity and courage to relentlessly pursue "what must go right."
Unlike most legacy IT projects, digital transformation is the essence of strategy and the future of business. However, the skill set to transform a business is very different than running a technology group. TEKsystems' "2020 State of Digital Transformation" surveyed more than 500 tech leaders and found that the top digital transformation goal remained the same before and after the onset of the COVID-19 crisis: "to improve customer experience and engagement." Yet, the same respondents oddly ranked "improving talent retention/engagement" last on the priority list. When asked about remote work's biggest challenge, 61% of those tech leaders chose "training and development" and "maintaining workplace culture."
That glaring disconnect is the central problem at many companies — technology is an overpriced and underutilized tool in the hands of employees who either don't know or don't care enough about the business. Strategy has little chance of success when employees can explain what they do, but not why they do it.
What Employees Don't Know Can Destroy Your Business
Despite massive investments in job training and leadership development, broad business perspective remains the greatest skill gap at many employers. There are three business fundamentals that tech teams need to know far more about: strategy, process, and performance — the "why," "how," and "how well" of the business. It is absolutely cost-free and infinitely rewarding to discuss all three in every meeting.
As regards strategy, leadership can start by asking very simple questions. Can the IT team easily and clearly articulate the company's vision for the future? Who are our top three customers and how do we win business over the competition?
Technology cannot possibly improve the customer experience if employees cannot see the business from the outside in. Any innovation or transformation effort is destined to fail if it aims to fix the present, rather than shape the future.
What are the company's top priorities? Why are these priorities important? When performance lags, boards immediately ask why there is little meaningful progress on top priorities, not about anyone's projects. After all the excuses, the real reason for those lags is that employees' daily work often does not address priorities. Much activity and little action is all too common. Leaders must make company priorities relatable to every job, every day — especially for massive-scale transformations.
After the big picture, the next questions must focus on everyday business processes. Can employees describe the company's value chain activities and where technology fits in? In a few words, how does the company make money and how does technology make a difference? "I don't know" is a dangerous response and one that senior leaders must fix.
Last, performance measurement cannot be relegated to spreadsheets and monthly reports. Which specific metrics make the difference between success and failure? How well is the company performing on these and what needs to improve?
Are employees aware of key financial indicators — revenue growth, expense ratios, and balance sheet health? Which three IT metrics drive financial outcomes? Do IT teams understand how transformation decisions affect planning, budgeting, and results? With meaningful executive leadership and credible performance goals, companies can sharply raise employee engagement and digital transformation's chance of success. After all, transformation means no going back. Otherwise, it's just yet "another" change management project and we all know how they typically end.
A Golden Opportunity Hides in Plain View
All of this may sound intuitive, but the business knowledge gap is far wider than many leaders realize or may openly acknowledge. That chasm will either close or widen. Investments in automation, artificial intelligence, and augmented analytics (as well as the next technology breakthrough) are bound to underdeliver without a workforce that is both upskilled with business savvy and culturally committed to success.
People will be the organization's greatest competitive advantage or the nasty bug that derails digital transformation. Invest wisely today in business acumen, or there may nothing left to transform.