Blockchain: Here to Stay? — An Introduction
Posted January 8, 2020 in
Cutter Business Technology Journal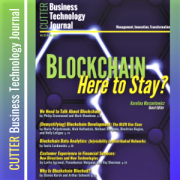 Advances in blockchain technology are unwavering to the extent that many now view blockchain as a mature, accessible technology and thus a viable business solution for those seeking to make transactions with greater security, transparency, speed, efficiency, and cost savings. By the end of 2019, global blockchain technology spending is expected to reach US $2.7 billion and will continue to grow at an ever-fast rate, likely reaching nearly $16 billion by 2023. In fact, the World Economic Forum predicts that 10% of global GDP will be stored on blockchains or blockchain-related technology by 2025.
Most enterprise networks implemented in production so far focus on the optimization of current business models and value exchange across ecosystems. Today's blockchain startups are making a bigger effort to drive innovation through the creation of new busi­ness models, but they face compliance issues. Nevertheless, blockchain-based innovations continue to revolutionize the banking and finance industry, transforming both business and consumer experience in positive ways.
From a technical perspective, regulated industries mainly focus on permissioned ledgers, where actions are performed by certain identifiable parties. Fully decentralized public blockchains, however, without known entities responsible for network governance, do not meet compliance requirements in most cases. In business, especially in regulated industries such as financial services or pharma, a clear assignment of responsibility to the parties and accountability for execution are required. In private networks or consortia blockchains, all participants must be known, verified, and approved before joining the network. New parti­cipants must fulfill business and legal requirements before being approved to join a network. Several private distributed ledger technologies (DLTs) have been developed since 2015 (e.g., Hyperledger, R3 Corda, and Quorum). These private DLT technologies have reached a certain level of maturity and stability and support enterprise use case implementation across industries. Most important, they can address regulatory requirements for compliance.
Standardization efforts by technology organizations have resulted in stable, enterprise-ready versions of blockchain and DLT software, such as the previously mentioned Hyperledger, R3 Corda, and Quorum. Moreover, organizations are working together on technical standards and industry-specific standards to increase interoperability between blockchain frameworks and to jointly address compliance challenges. We are also witnessing the launching of many stan­dardization bodies regarding blockchain and DLT. ISO now has a technical committee for block­chain and DLT. At the W3C, a new working group has been established for decentralized identifiers. Moreover, the European Union (EU) has the EU Blockchain Observatory and Forum group, and China recently announced a national blockchain standardization committee run by the Standardization Administration of China.
Most organizations have explored blockchain only in small, narrowly focused proofs of concept (PoCs). The goals of those PoCs typically focus on two aspects: (1) validation of the technology and its characteristics and (2) verification of a selected use case and its potential business benefits. Those who have experimented with blockchain have quickly discovered that blockchain itself is not enough to raise digitalization to a higher level. Thus, companies have started to evaluate how they can combine blockchain with other technologies (e.g., Internet of Things and artificial intelligence) to gain more usability and value.
Blockchain is a smart but still small baby only just beginning the process of becoming an adult. The next two to three years will be important in terms of implementing proper regulations and standards to enable wider adoption of blockchain and to establish the technology on a solid legal foundation.
In This Issue
In this Cutter Business Technology Journal (CBTJ), we take a broad look at the opportunities and disruptions that blockchain creates. Our authors explore reasons why blockchain application is still slow regardless of overall interest in the technology. Enterprises are still struggling to find a blockchain that fits their needs, especially from a scaling perspective. A key observation from these articles is that regulation and compliance can help drive blockchain technology adoption. Blockchain (and related use cases such as cryptocurrency and digital assets) is currently subject to very limited regulation. In this issue, the authors provide researchers and practitioners with an overall view of the current state of blockchain adoption and what industry participants perceive as its challenges. They present real-world examples of DLT implementations and demonstrate how this new technology can deliver new value.
In our first article, Philip Greenwood and Mark Woodman focus primarily on what blockchain is, the role of DLT in a digital economy architecture, and a new layer of the Internet, formed of ecosystem-type architectures. They clarify how blockchain and DLT networks have been changing the way complex enterprises (which do not trust each other) can automate collaboration. An extensive discussion of smart contracts, including the use of custom user tokens and identity and dispute resolution, elucidates how blockchain-based solutions enable consensus. The authors introduce and explain a new building block of the digital economy: a new layer of the Internet intended to create communication, storage, and execution services among many external participants. "Blockchain" is merely one name for this layer, although the name, according to them, is inadequate.
Next, Maria Polychronaki, Nick Kaftantzis, Michael Xevgenis, Dimitrios Kogias, and Nelly Leligou explore the business benefits and technical challenges of blockchain technology implementation in the human resources (HR) domain, specifically in a recruitment space. Recruitment is one of the most critical parts of HR management, one in which there must be an establishment of trust at the beginning of interactions between parties. The authors posit that there is a need for a unified platform where certificates and academic degrees are safely kept in order to ensure the integrity of information and to have a means of verifying the validity of the qualifications, all while ensuring privacy. They propose the design and implementation of a platform exploiting two different open source platforms: Ethereum and Hyperledger Fabric. They then analyze each architecture's basic features and compare those features to outline lessons learned.
To understand possibilities for blockchain-related technologies, we first must contradict myths surrounding cryptocurrencies. Blockchain provides the ability to build not only distributed but also decentralized solutions. Public protocols, such as Bitcoin, have shaped our understanding of what blockchain is. In her article, Iweta Laskowska explains some of those myths, such as anonymity, transparency, and privacy. She guides the reader to an understanding of what anonymity in peer-to-peer networks means and introduces the concept of "de-anonymization of transaction history," which involves the identification of the real-world identities of contractors (senders and recipients), as well as the value that is sent. As Laskowska suggests, "The involvement of third parties in the management and authentication of transactions is expensive and time-consuming. Distributed public networks reduce the need for central authorities and eliminate the 'single point of failure.'" This ultimately allows for greater participation in decision making.
Blockchain has enormous potential to change the customer experience (CX) for the better by improving access for disadvantaged customers, making businesses more accountable, and increasing security in customer interactions. Enhanced CX is critical for sustained growth of the business, especially in competitive industries such as financial services, where new fintech players are challenging traditional companies. In their article, Lavlin Agrawal, Pavankumar Mulgund, and Raj Sharman focus on how new regulations in the financial services industry and innovative technologies enhance CX by making services more efficient, faster, and less expensive. They describe new directives — such as the second Payment Services Directive (PSD2), applicable across the European Economic Area — that, together with new technologies such as blockchain, present a window of opportunity for financial services providers. The authors highlight how service providers, armed with information about target customers and with reduced risk of exposure to fraud, can better serve consumers. Many often perceive regulations as block­ing innovation. In opposition to this point of view, the authors show how leveraging blockchain technology and the PSD2 directive can help deliver better CX and value proposition in the financial services industry.
Blockchain has gained a strong foothold with real-world use cases to become a technology that leads to a decentralized future. For a few years now, many analysts have been reiterating the impact this technology is likely to have on a digital economy. On the other hand, many voices counter that the technology is not mature enough for enterprise adoption. In our final article, Steven Kursh and Arthur Schnure identify six key arguments for why blockchain technology adoption is "blocked." The authors investigate each identified rationale, showing its repercussions and proposing potential solutions to move forward. If blockchain technology is evolutionary, rather than revolutionary, as the authors assert, it is critical to understand what the current barriers are and how organizations, gov­ernments, and communities can address them. Once these barriers are overcome, more organizations will be eager to implement blockchain to demonstrate the business efficiency of the technology and to leverage its full potential.
So Is Blockchain Here to Stay?
Distributed digital ledger has many advantages: it allows for value exchange transactions made between any two parties in a secure, immutable, and trans­parent manner. This issue illustrates how blockchain tech­nology affects different aspects of business and why blockchain adoption requires time and patience.
The banking and finance industries have faced challenging competition from fintech companies for many years now and are currently facing the decentralized finance trend and the proliferation of startups in this area. Financial institutions, including central banks, have begun to seriously consider adopting blockchain for traditional banking operations. Governments are also paying close attention to the benefits of blockchain and digital assets. China, for example, has entered the blockchain race in full force by spending billions on innovation. Central bank digital currency, a stablecoin cryptocurrency, is another emerging use case led by governments and central banks that warrants watching in 2020.
Of course, some blockchain startups will fail, but in the process, people will gain experience on how to use the technology. The major blockchain protocols (both public and private) continue to grow in usage, metrics, and adoption rates. 2020 is shaping up to be a crucial one for tokenization and digital asset ecosystems. So, yes, blockchain is here to stay — definitely.
---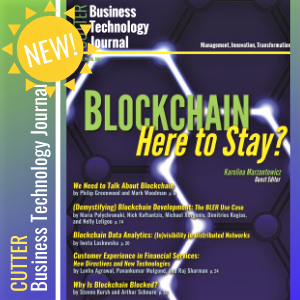 The five articles in this issue of Cutter Business Technology Journal provide a view of the current state of blockchain adoption, what industry participants perceive as its challenges, real-world examples of DLT implementations, and how this new technology can deliver new value. Available for purchase in the Cutter Bookstore. Cutter Members and Subscribers access here.