Blockchain: New Industry Trends, Developments, Use Cases — Opening Statement
Posted January 7, 2020 in
Business Technology & Digital Transformation Strategies, Data Analytics & Digital Technologies Cutter Business Technology Journal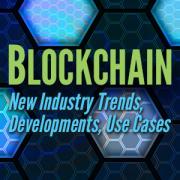 CUTTER BUSINESS TECHNOLOGY JOURNAL  VOL. 32, NO. 11
 
It is clear that distributed ledger technology (DLT) — aka blockchain — is here to stay. Blockchain technology has been revolutionizing the financial services sector for more than 10 years. Decentralized finance (DeFi) — financial software built on the blockchain — creates a totally new paradigm for a financial system and aims to eliminate all unnecessary intermediaries in order to provide a globally inclusive financial system. Exist­ing DeFi applications fall into one of five categories: lending, payments, digital assets, decentralized exchanges, or derivatives. The DeFi market has gone from US $0 in 2017 to over $662 million as of December 2019 in total value locked up in smart contracts.1
We can expect more intensive blockchain adoption and disruption of known business models in other industries and in government in the coming years. And regulators will need to make laws, policies, and standards to deal with decentralized digitalization.
New technologies promise to drive faster business efficiency, but this cannot happen without addressing the digital skills gap. As blockchain becomes a fast-spreading technology, it creates an enormous demand for blockchain skills. A recent report shows that global demand for blockchain engineers has a 517% increase year over year.2 Companies need technical blockchain experts who possess a deep understanding of the tech­nologies and can implement changes immediately. There is also a need for people in nontechnical block­chain roles who can make decisions involving the application of blockchain to business objectives.
One of the biggest obstacles to enterprise adoption of DLT is data protection and privacy. Research into privacy has been extremely fruitful over the last two years, with the development of new advanced cryptographic methods, one of which is zero-knowledge cryptography. Zero-knowledge proofs provide authen­tication without the need to reveal any inputs.3 They are particularly effective in secure communication, authentication, and privacy. They are used in many different blockchain projects (e.g., Zcash, Coda, Monero, and Grin), assuring the privacy of transactions in public blockchains. As zero-knowledge proofs are neutral by nature, they can be used in many different use cases outside of blockchain to address privacy requirements.
The success of blockchain technology will depend on how different blockchain networks can interact (share data and other information across multiple blockchain networks) and integrate (execute trans­actions across more than one blockchain network). The market needs both capabilities to advance with more use case implementation. Blockchain interoperability makes it easy to transact from one blockchain to another, offering across-chain transactions (e.g., between permissionless and permissioned blockchains). More benefits will be available to businesses when blockchain is integrated into more existing applications (e.g., ERP or CRM) to serve tracking, auditing, and recording functions.
In This Issue
This issue of Cutter Business Technology Journal (CBTJ) continues the conversation we began in our last CBTJ4 and focuses on blockchain technology adoption beyond cryptocurrencies and financial services. The authors explore areas such as energy and utilities and government and present real examples of successful DLT implementations. They share their practical experiences in overcoming and addressing some of the known issues with blockchain projects.
The need for open standards and standardization efforts is made clear in all the articles, which also provide readers with a perspective on some emerging trends in 2020, such as blockchain as a service (BaaS) and regulatory sandboxes. Many advancements have been made and much progress has occurred around blockchain over the last few years. But is the technology mature enough to make it technically feasible to carry out full-scale development of enterprise applications? Many doubts remain.
In our first article, Pavankumar Mulgund, Ankit Sharma, Adarsh Srivastava, and Lavlin Agarwal examine the technical feasibility of DLT to handle enterprise requirements and demands. The authors investigate the strategic value that blockchain technologies bring to the table, examine potential use cases in various business domains, and discuss the challenges involved in the realization of these use cases. They explore how the nature of certain businesses makes them better suited for blockchain technology and discuss the best practices involved in developing blockchain-based applications.
Regulators at all levels have a key role in providing legal frameworks, standards, and guidelines around the implementation of new market practices. Digital disruption has resulted in many challenges, not only for business but for regulators and governments, too, as they are responsible for market stability. Legal frameworks have not been ready for these quickly arriving digital changes that make it possible to con­duct business processes and transactions outside of the known legitimate structures.
In the digital era, innovation is a "must have," and supporting innovation is a must-have responsibility for governments. The increasing number of innovative startups and activities involving new technology is the main reason behind the regulatory sandbox initiative. A regulatory sandbox is a physical IT environment where companies and regulators can experiment with new types of services and technologies within legal frameworks or can determine what new regulations should look like to be aligned with current and future technol­ogy capabilities.
In our second article, Patryk Walaszczyk discusses regulators' role in blockchain adoption. He evaluates different approaches to regulatory sandboxes and questions their value in driving innovation and blockchain technology adoption. The author provides information about the scope and objectives of some blockchain sandboxes as well as their outcomes so far. It is to be hoped that current government efforts will accelerate blockchain adoption and that new business models across industries will emerge.
Public administrators can use blockchain to address challenges at the national and even at the city level. As people move from rural areas to major cities, the resulting rapid urbanization puts new demands on municipal governments. Better urban planning and promotion of innovative technologies, such as blockchain, can leverage the carrying capacity of cities.
In our next article, Magesh Kasthuri discusses how city administration can use blockchain. He provides various insights into decentralized architecture, including its technology benefits and security implementation. The article highlights a need for self-healing and auto-scaling services within a smart city architecture, which can be achieved by a blockchain network based on HyperLedger Fabric in a cloud environment. Blockchain can make cities more efficient and more resilient and adds greater transparency and security to a city's digital processes. Applying DLT technologies in smart cities is an opportunity to reshape many aspects of how cities are organized and managed in order to better serve their citizens.
A need exists, at the global level, for energy sources that are more sustainable and less detrimental to the environment. Improvements in energy storage and battery technology expand the opportunities for individuals to buy and sell their energy on a peer-to-peer level. Claudio Lima, in our fourth article, explains how blockchain technology can be used to digitize and foster growth in the energy sector. DLT has the potential to optimize energy management processes and to deal with the growing complexity in the decentralized energy system. Lima introduces the IEEE P2418.5 Standard for Blockchain in Energy, which creates an industry framework that will help with interoperability among different blockchain use cases and technologies. A DLT layer complements existing smart grid architectures, improves grid security and efficiency, and reduces the costs of utility operation.
In parallel with new blockchain use cases across industries, many technical trends are worth watching out for. BaaS is an offering that allows customers to leverage cloud-based services to build and host their own blockchain networks and smart contracts. The cloud service provider manages tasks and activities to keep the infrastructure operational. Because BaaS aids blockchain adoption across businesses, it is feasible to create, maintain, and manage a blockchain network for all participating companies, even those that lack skilled experts. 
The global BaaS market was valued at $632.08 million in 2018 and is expected to reach $94.28 billion by 2026, growing at a compound annual growth rate of 86.5% from 2019 to 2026.5 All major technology players, such as Amazon Web Services (AWS), Baidu, IBM, Microsoft, Oracle, Stratis, and Waves Platform, offer BaaS in their cloud environments.
In our final article, Tim Virtue focuses on the most significant risks of BaaS. He identifies common BaaS risks and proposes mitigation strategies for all of them. Virtue stresses that adoption of innovative business models is essential for new market entrants. In the build-versus-buy debate, he favors buy, although stresses that the BaaS provider should be a trusted partner, not simply a commodity supplier. Despite the significant risks involved in digital trans­formation adoption, doing nothing is the greatest risk of all. 
Advances in emerging technologies are happening at high speed, making it essential to plan ahead for new patterns and trends, particularly when it comes to blockchain. The benefits of DLT are not yet completely known. The authors of this issue's articles elucidate some of those benefits in selected domains.
The year 2020 may be the turning point for governments to lead blockchain development efforts rather than startups and developers. I expect to see more national digital currencies and regulatory compliance networks. DLT can make information access simpler and process execution faster for governments, insti­tutions, and businesses. For blockchain to mature, organizations and individuals need to feel completely confident using the technology, knowing they have the support of the government and the legal system. The future of the Internet, as well as that of the digital economy, lies in decentralization, and blockchain is a key decentralized technology. We can expect more blockchain initiatives in the near future.
References
1Defi Pulse, 2019.
2"2019: The State of Software Engineers — The Hottest Jobs in Software Engineering." Hired, 2019.
3"Explain Like I'm 5: Zero Knowledge Proof (Halloween Edition)." Hackernoon, 26 October 2017.
4Marzantowicz, Karolina (ed.). "Blockchain: Here to Stay?" Cutter Business Technology Journal, Vol. 32, No. 10, 2019.
5"Global Blockchain as a Service Market by Component, by Business Application, by Vertical, by Geographic Scope and Forecast." Verified Market Research, July 2019.