Blockchain in Smart City Administration: A Look at OrgBook
Posted January 7, 2020 in
Business Agility & Software Engineering Excellence, Business Technology & Digital Transformation Strategies, Data Analytics & Digital Technologies Cutter Business Technology Journal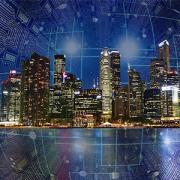 CUTTER BUSINESS TECHNOLOGY JOURNAL  VOL. 32, NO. 11
  
Magesh Kasthuri discusses how city administration can use blockchain. He provides various insights into decentralized architecture, including its technology benefits and security implementation. The article highlights a need for self-healing and auto-scaling services within a smart city architecture, which can be achieved by a blockchain network based on HyperLedger Fabric in a cloud environment. Blockchain can make cities more efficient and more resilient and adds greater transparency and security to a city's digital processes. Applying DLT technologies in smart cities is an opportunity to reshape many aspects of how cities are organized and managed in order to better serve their citizens.
Blockchain is an architecture that provides a digital ledger in a distributed and decentralized network platform in which changes to the ledger are reflected across all copies in the chained-together network (block). Hence, tampering with a transaction occurring on the blockchain is impossible, providing a decen­tralized and secured transaction platform. Blockchain technology is widely recognized as a platform solution for fintech use cases due to its decentralized nature.
With their security features and faster transaction workflow handling due to their use of a distributed network chain, blockchain and decentralized, network-based architectures are now broadly used in fintech for various use cases, such as KYC ("know your cus­tomer"), credit risk management, and fee calculation and approval. Blockchain architecture is being employed across other domains as well, such as manufacturing (e.g., inventory management), retail (e.g., stock ordering workflow), and healthcare (e.g., distributed patient records), to name a few.
Smart city administration is a complex use case that involves various platform solutions, including those for citizenship handling, front-office administration, gate pass management, security provisioning, and infrastructure management. An efficient smart city administration ecosystem requires a smart platform like blockchain, which enables the chaining together of distributed administration. In this article, we discuss smart city administration using a blockchain-based decentralized network and explore how to design and develop such an architecture using blockchain platforms. We also offer insight into the architecture, including its technology benefits, security implementation, and use case details.
Blockchain for Smart City Initiatives
At a recent Blockchain LIVE conference in London, UK, a flurry of innovative discussions transpired on options for next-generation infrastructure in designing smart cities.1 One key discussion topic revolved around block­chain's suitability for smart city initiatives in terms of defining use cases for blockchain-based solutioning and identifying features provisioned by a combined smart city architecture using a multilayered blockchain platform.2 In such cases, various component groups act in different use cases and are chained together as a unified platform for distributed administration purposes.
An integrated smart city architecture combines various technical services to implement different, interrelated use cases. For example, citizenship management requires approval workflow handling; identity man­agement necessitates role mapping for citizenship; transportation management services require citizenship data; infrastructure management needs a payment gateway. Each service group requires, to some extent, data from other service groups, making an auto-scalable distributed platform a requirement for such an implementation. A cloud-based blockchain platform is applicable due to its distributed nature and exten­sibility in terms of service grouping and scalability. Typically, blockchain platforms such as Hyperledger, OpenChain, MultiChain, and Ethereum are physically provisioned platforms with limitations to their integration with other platform services such as data analytics or API management services. In a cloud-based blockchain platform, like those from Azure or Amazon Web Services (AWS), facilities exist to integrate other cloud services — such as Amazon API Gateway or Amazon QuickSight for data analytics or Amazon SageMaker for machine learning — with the blockchain platform and to provide extensibility to the platform in terms of blockchain network governance and infrastructure management.
Security features (e.g., automated member management) and transparency in processing activities (e.g., workflow management and alerting mechanisms for event triggering) are core components when drawing up requirements for smart city planning and infra­structure. Many use cases in smart city administration architecture can employ cloud-based blockchain platforms due to their dynamic infrastructure provisioning. Such platforms also provide a distributed architecture to combine various service group implementations, as in the implementation described next.
A Smart City Implementation
Earlier this year, the Canadian province of British Columbia (BC) announced a collaboration called Verifiable Organizations Network (VON),3 which is a technology demonstration project to implement a smart city using decentralized blockchain. The aim is to showcase the benefits of an open, unified, and trusted network of various public organizations and associations for the benefit of people and services across city and province administration.
BC's VON consortium implements a smart city administration platform called OrgBook4 using the Hyperledger Indy platform. This OrgBook archi­tecture is decentralized in nature due to its blockchain-based implementation, and the technical entities in the archi­tecture foster building trust among participants in the blockchain. Participants are categorized as holders, issuers, and verifiers based on the various roles involved in use case implementation (see Figure 1).

The implementation of OrgBook in smart city administration using a blockchain-based distributed network helps reduce paperwork and delays in administrative efforts and improves efficiency in public administration work, with real-time workflow management for Social Security verification and address registration/deregistration, to name just a couple of tasks.
In the OrgBook-based architecture, smart city administration is handled efficiently by designing various use cases as decentralized solutions (i.e., Azure Service Fabric implementation), using the decentralized database to display public data in a verifiable and authentic manner, and empowering individuals (e.g., a smart city member or authority) or entities (i.e., different roles based on level of access to administration service) to manage user identity in terms of authorizing a workflow, such as guest pass provisioning without the need for manual verifiable services.
The components of this architecture include the development of a mobile service called Citizen Wallet App that provides the following features:
Allows end users and associated family members to identify, store, and share decentralized identifier (DID)-based proofs

Provides a service for associations and member groups to issue/verify DID-based proofs

Carries out administrative functions, including authorization of certificates, certificate issuance, and public notices (e.g., event calendar, community meetups, classified ads)

Provides verification services, such as authorizing identity, providing access rights and issuing approval
OrgBook Implementation Architecture
Cloud service providers, such as Azure and AWS, pro­vide blockchain network service components (e.g., Hyperledger Fabric or Ethereum) using custom cloud service implementation and integration with other cloud service components. AWS, in particular, provides other decentralized platforms (e.g., R3 Corda).
The OrgBook use case implementation is based on Hyperledger (for developing blockchain-based solutions in a modular architecture with high-scalable performance) or Ethereum (for decentralized application implementation). Azure provides service integration for a Hyperledger Fabric integrated solution. This solution can be used for OrgBook applications for different service group implementations (see Figure 2) using cloud service integration elements, such as the following:
Virtual private cloud (VPC) peering for peer node integration

Interface development using Azure Service Fabric

Resource group management for Hyperledger Fabric handling

Data storage for ledger management services

App services for rule implementation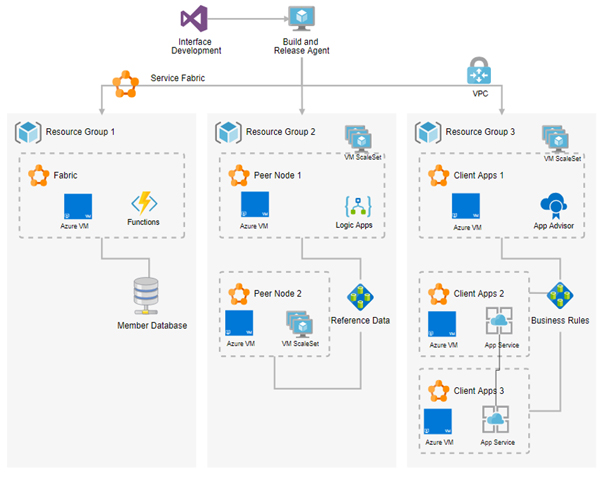 This OrgBook implementation architecture can be implemented in an AWS-based architecture by using VPC peering, peer node services, and Hyperledger Fabric components, as shown in Figure 3.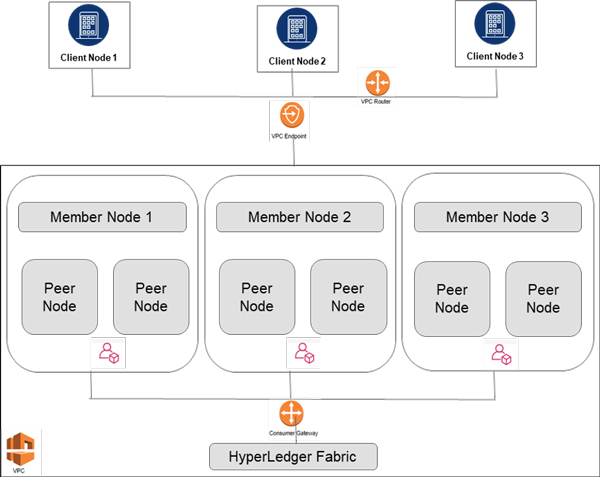 Conclusion
Smart city administration encompasses many possible use cases, the implement of which requires an efficient platform such as a cloud-based blockchain architecture (aka "blockchain as a service"). VON's OrgBook implementation is a key application of this blockchain-based distributed platform, combining the use of various use cases in smart city administration, including land and property management, transportation management, citizenship management, security and identity management, infrastructure (e.g., light, water) management, tax management, smart device services, Internet of Things device handling, energy/water/pollution management, and retail services.
For those seeking a blockchain-based architecture for smart city administration, there is no other unified solution as extensive as OrgBook that caters to a single platform for administrative services in an interlinked service group. The key advantages of the OrgBook architecture are that it can be extended to future use cases in smart city administration and that it uses a highly scalable, cloud-based platform, making it cost efficient.
In this architecture, self-healing and auto-scaling services can be done on the fly in real time. Using the OrgBook architecture solution described in this article, the distributed architecture of a blockchain-based Hyperledger Fabric solution provides workflow management and rule integration.
(Disclaimer: The views expressed in this article are those of the author. Wipro does not subscribe to the substance or veracity of these views.)
References
1"2019 Agenda." Blockchain LIVE, London, UK, September 2019.
2"Decentralised and Open Data Is the Foundation of a Smart City." Proceedings from Blockchain LIVE, London, UK, 4 September 2019.
3"BC's VON Architecture." Verifiable Organizations Network (VON), 21 January 2019.
4"OrgBook." Verifiable Organizations Network (VON), 21 January 2019.