Bridging Strategy & Execution: A New Way Forward
Posted July 14, 2022
| Leadership |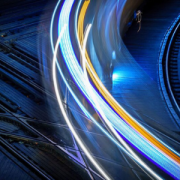 In their landmark Harvard Business Review article, "The Office of Strategy Management," published in October 2005, Robert S. Kaplan and David P. Norton, the minds behind the Balanced Scorecard, illuminated one of the most critical challenges that persists in organizations today: the gap between strategy and execution, which they asserted "arises ... from a disconnect in most companies between strategy formulation and strategy execution."
Reshape & Extend Insights to Guide New Way Forward
"The Office of Strategy Management" highlights insights that are still highly relevant and remain lacking in many organizations today. To summarize:
Cross-enterprise strategy and strategy execution–related activities require a common focal point and facilitating function.

Strategies require translation into coordinated plans across an organization to enable focused delivery and to realize synergies.

Ongoing alignment is essential across strategies and plans at all levels, down to employees' personal goals and performance.

End-to-end accountability is needed to ensure that the communication and execution of strategies are delivered effectively.

Strategies and strategy execution must remain fluid as new ideas are identified from within the organization and as internal and external conditions change.
However, the original approach presented in "The Office of Strategy Management" lacks some core concepts that allow organizations to fully bridge strategy and execution. For example, the original approach focuses primarily on strategies and initiatives, leaving out many steps in the process. Business architecture is that bridge. Figure 1 shows a high-level framework for end-to-end strategy execution as well as the common sets of teams involved. Unfortunately, most organizations skip over the Architect Changes stage and instead jump from the big ideas in the Develop Strategy stage to a set of detailed initiatives in the Plan Initiatives stage. This is a root cause for many challenges that occur, such as redundant solutions, suboptimal experiences, or misaligned investments.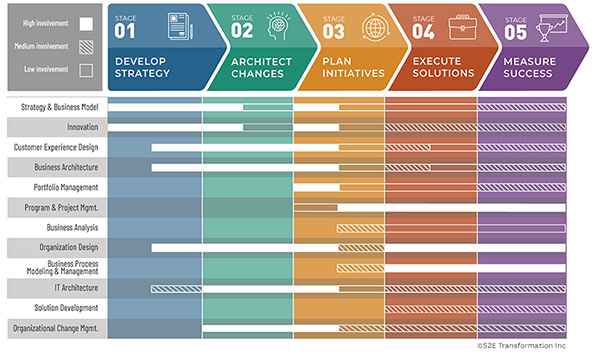 Within the realm of business architecture, capabilities are a crucial construct necessary to organize and optimize the resources needed to deliver stakeholder value and evolve the organization through change initiatives. Capabilities also elevate the conversation around strategic investments and illuminate opportunities for reuse and synergies.
Additionally, true strategy execution takes a village. To really succeed, we need to consider the entire process to move an idea into action — from innovation and strategy formulation through the delivery of results. As Figure 1 illustrates, a formalized and cohesive process is necessary to develop strategies, architect changes, plan initiatives, execute solutions, and measure success. It requires integrating many different teams and creating end-to-end transparency and accountability for the results. Most organizations approach this in an entirely fragmented way, or may integrate certain teams but not the whole collective.
What Is Successful Strategy Execution?
First, we must understand what successful strategy execution is. It is the ability to define clear strategic intent and then translate it into organized effort across people, process, and technology with transparency, accountability, and intentional change management from end to end. The key is for organizations to build a cohesive, end-to-end capability for strategy execution. It can be measured by the time it takes to get products, ideas, and business changes to market, as well as measures like customer experience satisfaction and internal complexity. Strategy execution is a muscle to build and should be treated with the same importance as any other critical function of the organization, such as product development, sales, marketing, or customer care.
Furthermore, strategy execution must be underpinned by a robust business architecture knowledgebase to inform decision making — from weighing strategic options to assessing the alignment of investments with enterprise priorities to illuminating synergies and dependencies between initiatives.
Business architecture serves as an organization's business blueprint to translate and activate business strategies. It also provides the scaffolding that connects all ideas and teams together from end to end, including strategy, experience, architecture (e.g., capabilities, value streams, business units, stakeholders, products), initiatives, and solutions, and ensures ongoing strategic alignment. (See my Executive Update "Business Architecture: Key Enabler for Strategy Execution Redux" for details on how business architecture enables the entire strategy execution lifecycle.)
Strategy Execution Abilities
Drawing on insights from Kaplan and Norton as a foundation, let's extend and blend those ideas with a more holistic view of strategy execution and an architectural approach to assert a set of abilities that organizations need for successful strategy execution. I will not prescribe a particular organizational structure, especially considering the evolving nature of the contemporary business environment with agile teams, the shift from project to product mindset, and decentralization. However, an organization that competently demonstrates these abilities will think and work in ways that ultimately produce effective strategy execution outcomes. To successfully execute strategy, an organization needs the ability to do the following:
Act with an enterprise consciousness that puts what is best for customers and the enterprise first, balanced with the needs of organizational and product silos.

Operate with a cohesive, end-to-end strategy execution process, with clearly defined integration across all teams, along with transparency and accountability for the results.

Articulate and decompose business direction into an agreed-upon, clearly defined, and differentiated set of focal points (e.g., goals, objectives, metrics, courses of action).

Effectively communicate strategic direction throughout an entire organization, across all areas and all levels of people to create clarity, provide personal context, and mobilize action.

Enable decision making and traceability for the end-to-end strategy execution process with an objective, business-focused view of the enterprise (i.e., a business architecture knowledgebase) that is friendly and accessible to all.

Build, mature, and own strategic capabilities and shape initiatives that will deliver enhancements to those capabilities. (Note: This contrasts with the typical approach, where initiatives are planned and delivered in silos. Capabilities often cross organizational and product silos and thus require expanded collaboration, accountability, and planning.)

Synergize business and technology solution investment and design around capabilities to ensure modularity, reuse, and consistency.

Deliver capabilities (enabled by people, process, and technology) within the context of seamless, end-to-end journeys and value streams for customers, partners, and employees.

Ensure ongoing alignment of strategies, architecture, initiatives, and solutions across all areas and levels of the organization.

Measure the end results of initiatives and solutions to ensure they achieve the original business objectives defined.

Dynamically sense and respond to the environment in order to adjust strategies and goals when internal and external conditions change and to dynamically replan work when strategies and goals change.
[For more from the author on this topic, see: "A Comprehensive Approach to Strategy Execution."]