Business Architecture and Human Experience: Better Together
Posted July 16, 2014
| Leadership | Technology | Amplify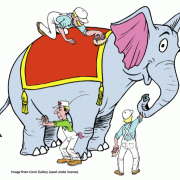 BUILDING BETTER SOLUTIONS: WHAT'S NEEDED?
There are many reasons why software applications and systems are often rejected by the users they are intended to support. In some cases, the users are not involved early in the development of the requirements. In other cases, IT puts forward technical features it thinks the application should support, with little knowledge of what the business really needs.
Don't have a login?
Make one! It's free and gives you access to all Cutter research.