Capabilities Models for Business Advantage
Posted June 10, 2020 in
Business & Enterprise Architecture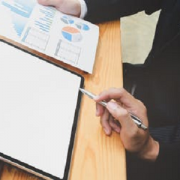 Business capability modeling is a technique that can help digital architects and businesspeople alike. Busi­ness capability modeling helps bridge strategy and execution by expressing an organization's most important activities in commonly understood terms, known as "capabilities,"1 that businesspeople under­stand. Capabilities are then mapped to data, processes, organization, and technology that members of the technology department and enterprise architects understand. Business capability modeling shows the alignment of data, processes, and technology to the key value chains of the organization.
In addition to capabilities being useful to help the business go from strategy to execution in the context of a new initiative, a business capability model can provide insight to the organization. In this Advisor, we consider two scenarios — investment planning and digital transformation — where using a capability model as a foundation for delivering information can be valuable.
Investment Planning
Organizations have various different ways of carrying out their investment planning process. Regardless of the method, generally the "asks" for investment exceed the level of investment available. Mapping the various investment planning asks against the capability model can help with duplication if multiple business areas are looking for the same capability. The model can help identify synergies where a portion of an investment across multiple business areas could be brought together to deliver value across the enterprise. The model can also help identify where investment requests do not align to strategic goals. Carrying out the three stages discussed earlier to create a business capability model and understanding the organization's goals and objectives will result in a view of what capabilities are strategic to the organization and how changes to them will help or hinder the organization in achieving its goals. A quick heatmap of investment planning asks mapped against the capabilities that have been called out as strategic will allow the business to determine whether spending money on nonstrategic capabilities is really a good idea.
Digital Transformation
Understanding and scoping what actually needs to change to achieve digital transformation can be a difficult task. In some instances, determining where to start a digital transformation and why is not always clear-cut. Having a base business capability model that has process, organization, technology, and information mapped to each capability is a great canvas from which to plan and roadmap a digital transformation. Capa­bilities identified as strategic are a good starting point for a conversation on which areas of the business are important today — and going forward. Transformation can then focus on the areas of the business that are the most important and that bring the most business value. Having the process, organization, technology, and information mapped to each capability helps deter­mine what actually has to change to truly digitally transform; for example, what existing processes need to be enhanced or changed, whether new information sources are needed, what organizational changes will be necessary, which people are impacted, and whether any new applications are required. It is far easier to answer these questions when we can connect what it is the business wants or needs to do with how it is going to be done. In sum, business capability modeling allows organizations to scope out all required changes.
1I define "business capabilities" as an expression of the organ­ization's most important activities and the combinations of technology, data, process, and people needed to realize them.
[For more from the author on this topic, see "Business Capability Modeling: Propelling Digital Transformation."]