The Case for Environmental Intelligence Solutions
Posted September 23, 2021 in
Business Technology & Digital Transformation Strategies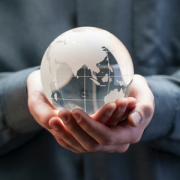 Our changing environment presents a series of interrelated challenges that will affect everyone — our economic and social well-being, including our future health, safety, and prosperity. Environmental intelligence (EI) is an effective combined use of data science, AI, and other digital technologies such as IoT to provide the meaningful insight needed to address these challenges and mitigate the effects of environmental change. EI can help in collecting and analyzing environmental data to understand the cause and impact of environmental changes and to predict potential environmental risks facing us. It's a rapidly emerging area and will help us:
Find pathways to solving the climate crisis and address sustainability issues

Derive real-time insights

Determine where improvements are needed

Advocate and influence sustainable policy development

Set benchmarks for assessment of carbon credentials and geopolitical cooperation to address climate change

Identify opportunities for businesses and organizations to save money while contributing to a greener planet
It involves the following five key steps:
Data collection. This involves gathering data from a large number of different types of environmental-monitoring sensors. It may also include data collected using drones and satellites. Environmental monitoring with IoT enables a reliable and continuous assessment of the environment's current condition.

Data processing. Data received from sensors is processed to filter out noise and outliers as well as to validate.

Data aggregation and data management. Data received from diverse sources is aggregated as required and archived.

Advanced analytics using AI and other approaches. This helps us understand climate patterns and the environment's current condition. It also predicts trends and provides insights and recommendations.

Visualization and interactive presentation of insights. This provides consolidated results in impactful and interactive visual forms.
EI solutions offer tools and techniques for improving strategic decision making and operational efficiency. Optimization solutions could aggregate varied data from related entities, including data on the environment, market demand, supply chains, and customer needs to determine optimal actions.
EI has applications in several areas. It can provide insights rather than just information, on-demand real-time analytics and solutions, improved logistical knowledge, insights into consumer demands in advance, and effective and efficient management of supply chain. It can also help reduce environmental and operational business risks. For example, EI is used to reduce fuel costs in the shipping industry. Delays and inefficiencies that occur as a result of unanticipated environmental conditions, such as severe storms, rainfall, and ocean currents, directly impact the shipping industry and the supply chain. EI solutions are helping the industry manage these risks more effectively. One example of this is Maersk, a leading container shipping company, which developed a proprietary EI system, Eco Voyage, to optimize its voyage routes.
IT has several opportunities to develop EI systems for applications in diverse industry sectors. EI provides benefits and opportunities for both the providers and users.
[For more on this topic, see Greening IT: Needs and Opportunities.]