The Chief Product Officer: A Growing Necessity
Posted October 14, 2021 in
Business Technology & Digital Transformation Strategies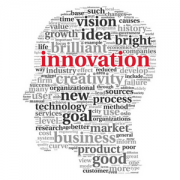 The chief product officer (CPO) role is emerging as the business's product portfolio equivalent of the chief technology officer (CTO) on the technical side of an organization. The CPO leads the product development team and oversees the product portfolio. While small businesses often choose to work with their existing team of product managers over adding a CPO, that may not always be the best choice.
Development costs that increase without resultant growth, struggles after a merger or acquisition, and skill gaps noted after hiring more "generalist" product managers could signal that it is time to make a change. Even smaller companies that may have been startups in the not-so-distant past may be ready to make that jump to establishing the CPO position.
The CPO's Role
The CPO defines "the why and what" and "closely work[s] on the problems worth solving and what features to be built." CPO responsibilities include:
Creating the product(s) strategy, vision, and design

Defining the marketplace problem, need, or challenge and based on data, identifying proposed solution(s)

Leading the product team from inception to delivery to create a product that delivers on marketplace expectations

Assessing the competitive landscape on a continuous basis to ensure product growth and market feasibility

Championing the company's latest offerings to investors, customers, and other stakeholders
Leader and Strategist
Marketplace disruption requires forward-thinking leadership, especially since customers are more empowered than ever. More data (both performance and social) is available to support their decision making and lower the barriers to switching loyalties between a multitude of vendor options in both the business-to-business and business-to-consumer environments. The CPO who knows how to structure and build organizations that listen to customers and respond quickly can be an invaluable leader — especially when the cost of inaction is often irrelevance.
As a strategist, the CPO focuses on competitiveness, both to enable the iterative lifecycle required to constantly optimize products and also to create a stimulus for demand. He or she can provide the expertise and focus to advance products and product enhancements, helping move a company to the next level. The CPO is customer-driven, anticipating the next product in demand, mobilizing the development team at just the right time to address that future market need.
Even Small to Medium-Sized Organizations Need a CPO
Sometimes it is difficult for the CEO, president, or startup founder to see the forest for the trees. It can be unclear when to add someone in the CPO role. Yet, taking that leap can free up valuable time, allowing them to focus on priorities such as talent recruitment, securing additional funding, organizational efficiency, board management, and other executive functions.
Leaders of small to medium-sized businesses who hold on to the product management role too long can negatively impact the roadmap to corporate expansion and growth. With competitors right around the corner, that delay can prove fatal. When a company is positioned for and ready for expansion, it can signal the right time to consider adding a CPO.
Identifying the Ideal CPO
The most successful CPOs have broad-based skill sets. They understand technology, business, and marketing. They possess exceptional stakeholder management skills and the ability to balance a multitude of requests against the related tradeoffs. Technical literacy in complex environments, enhanced by experience with Agile methodologies or DevOps (to shorten the development lifecycle) is another major asset.
Savvy CPOs recognize that product development is at the center of a competitive storm. They are able to accelerate new approaches across functions, from technology to marketing, inventory control to finance, and on to other areas of the business. Think of it as creating a "connective tissue" within the organization.
In addition, advocating for consumers must be at the core of their vision, mission, and strategy for new product development. That means having the ability to turn away a potentially good idea when there is just no customer use case for it. This is where having a close view of customer needs and experience can be invaluable as well.
Time to Take the Leap?
The explosion of SaaS (cloud-based software-as-a-service platforms) combined with the discipline of product management's growth has drawn product-oriented teams from the shadows of the marketing and engineering departments. With the right CPO hire in-house, companies can begin to align product, business, financial, and go-to-market strategies.