AI/ML-Powered Machine Vision Systems Bringing Big Benefits to Auto Industry
Posted June 8, 2022
| Industry | Technology |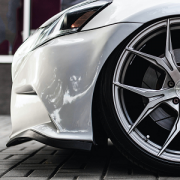 Machine vision systems employing machine learning (ML) and other artificial intelligence (AI) techniques are now bringing major benefits to automakers, dealers, and repair shops in the form of camera-based automated vehicle inspection systems. These benefits include automating the vehicle inspection and repair-order-generation processes, and for assessing and presenting the status of a vehicle to customers using online automobile marketplaces and auctions.
Key Drivers
Several technical developments have led to the increasing use of AI-powered computer vision and imaging in the automobile industry. By employing deep learning neural networks — whose models have been trained on millions of images of vehicles, including those showing various examples of damages — the accuracy of the algorithms used by computer vision systems has increased considerably. These systems can now identify and classify multiple anomalies in images, such as damaged parts (e.g., bumpers, fenders, grilles), oil leaks, corrosion, and even under-inflated and worn-out tires appearing in images of vehicles.
Other developments driving the use of camera-based vehicle inspection systems include the availability of such systems as cloud-based applications and the use of edge computing techniques. The former makes the technology more accessible to car dealers and online marketplaces. The latter reduces latency associated with image processing and analysis. Additionally, camera-based vehicle inspection systems are now integrated with car dealership management systems and online auto-selling platforms, making their use even more appealing.
To get a better understanding of the advanced capabilities computer vision–based vehicle inspection systems offer, let's examine some products currently available from UVeye and Tractable.
UVeye
UVeye offers a drive-through AI-based camera vehicle inspection system designed to automate service department operations for automakers and dealerships (see Figure 1). UVeye's system features comprehensive vehicle inspection capabilities. This includes an underbody scanner for detecting problems with a vehicle's underside, such as frame damage, oil leaks, and corrosion. Tire inspection functionality can identify the brand of tire on a vehicle and its specifications and status — including air pressure, tread depth, sidewall damage, and even if a vehicle's tires are mismatched. External inspection capabilities can generate a 360-degree exterior scan of a vehicle's metal and other external body parts — including bumpers, door locks, grilles, mirrors, and windows.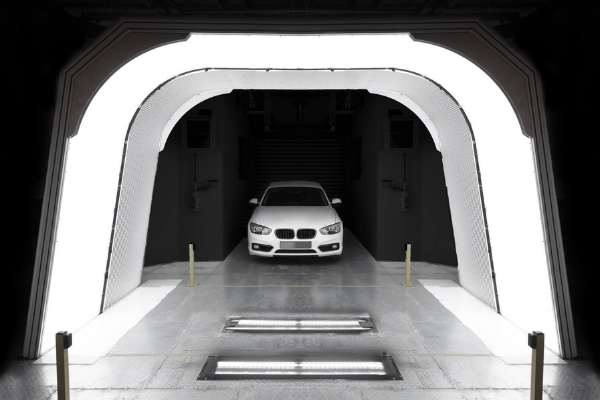 In June 2022, UVeye announced that its vehicle inspection system had been integrated within CDK Global's Fortellis Automotive Commerce Exchange application — a popular platform for connecting auto dealers, manufacturers, developers, and lenders. Together, these systems offer an integrated platform for automating the overall vehicle-repair process — from initial vehicle inspection to repair order generation.
UVeye company reps claim that it takes about 15 minutes for a vehicle to pass through its vehicle inspection system and to generate a repair order — offering a savings of about 45 minutes compared to if the entire process were performed manually. Below is a description of the system in action.
As a customer's vehicle drives through a UVeye inspection lane (which takes just a few seconds), a service writer using a tablet can view a series of photos and a list of problems detected by the system. Serious problems (e.g., worn tires or a damaged muffler) are flagged in red on the service advisor's tablet screen. Customers are then shown photos highlighting any issues and, working with the service advisor, can together determine which repairs to carry out. Upon approval, the system will then auto-generate a repair order (including an estimate) based on information from the inspection report.
Status of UVeye's Inspection System
A number of car dealerships currently use the new (integrated) system in the US. Moreover, in March 2022, Volvo initiated a program to utilize UVeye's camera-based inspection system in select US dealers. Volvo reps claim it give their retailers the ability to evaluate trade-ins quickly and cost-effectively and to examine the condition of customers' cars coming in for servicing. (You can watch a video of the UVeye system in action at a Volvo dealership here.) Volvo hopes to eventually expand use of the UVeye system to more of its 280 independent retail locations in the US.
Volvo has actually been involved with UVeye since 2019, when it became a strategic investor in the company and when (also in 2019) it installed UVeye's body inspection technology on its assembly lines to support its quality assurance program.
Tractable
Tractable offers several machine vision–based inspection products, including for the insurance industry (which I wrote about in a previous Advisor) and for vehicle inspection.
Tractable's vehicle inspection platform uses ML and image classification to conduct a pixel-by-pixel assessment of a photo of a car, including to determine vehicle damage down to the individual part level, to classify the condition or the amount of damage, and to generate a detailed estimate (including a certainty score). It can even identify parts for salvaging from old or wrecked cars, which has the potential to help repair shops source needed parts.
In March 2022, Tractable teamed up with Black Widow to integrate its AI visual inspection system with Black Widow's 4K image-capture system. Black Widow is an eight-camera, drive-through system designed to capture high-definition vehicle images that are automatically assembled into a 360-degree virtual tour of the inside and outside of a vehicle. These images can be directly edited and published immediately to online vehicle marketplaces and auction sites.
Tractable's system will apply its ML-based analytics to images captured by Black Widow to identify external damage and generate a vehicle condition report, outlining estimated repair costs. Basically, integrating Tractable with the Black Widow system will enable auctions and dealerships to receive a more accurate and consistent assessment of a vehicle, allowing them to make faster and better-informed sales decisions during the vehicle remarketing and merchandising process.
In short, the goals are to: (1) significantly reduce the time and effort required to bring a used car to market and (2) offer consumers a better customer experience by giving them a more comprehensive and (transparent) view of the vehicle they would like to purchase.
Conclusion
Machine vision in general is one of the most successful commercial applications of AI, and we are now seeing it utilized across a broad range of use cases and industries, including in the automotive industry.
Automated vehicle inspection has numerous applications in addition to those associated with auto dealers and online marketplaces. Insurers, automobile recycling, and auto leasing financial companies could also benefit from such systems, and we are now seeing applications being developed for such industries.
Finally, I'd like to get your opinion on the use of machine vision in the automotive and other industries. In particular, what benefits and issues do you see companies realizing or encountering with the technology? As always, your comments will be held in strict confidence. You can email me at experts@cutter.com or call +1 510 356 7299 with your comments.