COVID-19: How Are Workforces Evolving Through It?
Posted April 1, 2020 in
Cutter Business Technology Journal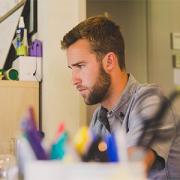 COVID-19 has already had a massive impact on all our lives and is on track to continue doing so for some time. In this situation, technology is playing an increasing role in moving life and business forward. Companies across the world have asked their workforces to work from home (WFH), and large corporations in the US, Europe, and India, among others, are moving forward with their business despite this WFH policy. Schools and universities have moved their classes out of the classroom and online as well. This will all have long-term, and potentially positive, impacts on society and how we run our lives.
Technology in Education
In the field of education, universities are finding new, flexible ways of delivering classes. Universities had already adopted online courses and programs in their curriculum. However, new remote delivery mechanisms through video-conferencing tools are providing universities with a newer way of delivering interactive lectures. Compared to traditional online classes, this interactive remote delivery gives students the opportunity to have live interactions with faculty and fellow students without physical colocation restrictions. As an example, the University of Texas Austin McCombs School of Business and NYU Stern School of Business have moved all their face-to-face classes to live interactive classes over video conference platforms such as Zoom. Students are being asked to complete their group projects by interacting with fellow students using tools such as Skype, Zoom, and Google Hangout. Students have to do collaborative work in their class using online collaborative tools such as Office 356 and Google G Suite.
These changes in the learning mechanism will have three main impacts. First, many faculty in traditional universities who have thus far been reluctant to adopt remote or online delivery mechanisms are suddenly finding themselves learning these platforms, adopting them for students' learning, and facilitating students' interactions. Second, students are learning a new way of working together via online interactions, which increasingly has become the norm in the corporate world. Although many in the corporate world (primarily those in high-tech companies) have adopted online interactions and distributed teams, university graduates were lagging in this essential skill. With the current situation, that lag will be nullified and will help corporations to deploy this new workforce more efficiently. Third, millennial students in many disciplines are, though conversant with various social media platforms, lagging in the computer literacy required to survive in the business world. This new environment will force them to adapt and use technology for their learning. On the way, they will become more conversant with computers and will thus increase preparation for work in the corporate world.
Kindergarten through 12th grade schools in the US and many other countries now are running classes online. The introduction of online and remote delivery interactions will improve computer skills among this younger population as well. Hillsborough County, New Jersey, one of the US's largest school districts, is providing free Chromebooks to all students who can't afford to buy their own. With initiatives like this, the digital gap that existed previously between poor and economically well-off students will diminish. More students will get equal opportunity to learn to use technology for learning. Schools are using online materials that are commonly available, such as Khan Academy. This has the potential to standardize the learning by grade across the country. Responses like these to the current crisis will have a long-term positive impact on society in developing our next generation to be better prepared to use technology for productivity.
Technology in the Corporate World
In the past, there has been a large divide in the US corporate world. High-tech companies long ago adopted the WFH concept (43% of tech workers reported working from home in June 2017). However, it was not so much a norm for non-tech workers. In the new era, all corporations are asking their workers to WFH other than essential service workers who are needed to run services in manufacturing and warehouses. Workers who are now forced to WFH are learning a new and productive way of interacting with colleagues and getting the work done. The situation is forcing the large, non-tech workforce to evolve into a digital-friendly workforce. This will enable corporations to build teams across the globe, even for non-tech work such as HR, finance, legal, and accounting. Organizations that were previously not so much in favor of WFH will see its benefits.
WFH, if done with appropriate discipline, can be highly productive (employees spend less time commuting and therefore have more time to refresh). Corporations will also see massive savings in electricity bills and the consumption of other items, such as water, printer paper, and office items. The cost of essential services such as janitorial services and building maintenance will go down significantly. The corporate world is already running on cloud infrastructure, where the applications, data, and documents can be securely accessed from anywhere, so the WFH will not add any additional overhead on these items. Corporations will also realize massive savings in facility maintenance (along with real estate costs) with WFH. This will ignite a positive attitude to WFH culture in many organizations. Many organizations are expected to continue or extend the WFH for its workers beyond the COVID-19 crisis.
Technology in Personal Life
During this crisis, people are being connected more digitally. People who did not use the technology before to communicate with their loved ones (such as parents and grandchildren) are using technology to stay connected in the era of social distancing. Thanks to free Internet by service providers like Spectrum, populations that were previously left behind on digital connections are now being connected to the Internet world. The current situation is bringing more and more people to the Internet, and people are getting used to using social media in a more productive way. We will move fast toward the fully digital connectivity of the world.
During the COVID-19 pandemic, many people will have more free time if they are not required to commute daily to work or to drop off and pick up their children at school. They may use this free time to learn new things, as institutions including the Ivy League have made many classes freely available online. New skills acquired through these online classes during this time may be a valuable asset for survival in the future.
COVID-19 has put a near stop to daily life as we knew it. However, when it is over, corporate America, the current workforce, and the future workforce will return with skill sets that will better position them for the future digital world.