Crisis Alert! Strategies for Today & Beyond — Opening Statement
Posted July 21, 2020
| Leadership | Technology | Amplify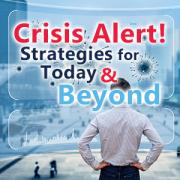 CUTTER BUSINESS TECHNOLOGY JOURNAL  VOL. 33, NO. 7
  
There are all kinds of corporate crises. Some are trig­gered by an aggressive, creative new competitor or an industry merger; others by a management implosion, a failure to innovate, or malfeasance. New regulations, interrupted supply chains, and cyberattacks can also spark crises. These crises are the equivalent of unrelenting hurricanes, an intense winter snowstorm season, or other temporary, though serious, disruptions. With the right moves, they can be endured. But there are also unpredictable, inexplicable, pervasive crises that defy modeling and management. The COVID-19 pandemic is an example of this kind of crisis, a crisis of the second kind, a sea change.
Crises of the first kind can be managed. With money, competence, and a little luck, they can be mitigated. They have beginnings and ends — features of enormous value to crisis managers. While there's no guarantee a company will survive a crisis of the first kind, there's a reasonable opportunity to get through it. There's generally enough time, money, and reserves to enable solid responses. But crises of the second kind, like COVID-19, challenge companies in ways they cannot even comprehend, let alone manage.
Crisis managers sometimes deliberately reclassify sea changes into snowstorms. They do this because they have playbooks suited for crises of the first kind. They do this in spite of overwhelming evidence that screams "sea change."
How many companies stockpile people, cash, partners, suppliers, and products? Very few plan for rainy days they believe will never arrive. In fact, companies that plan that aggressively could never generate the financial results their investors expect. Massive stockpiles of people, cash, partners, suppliers, and products are never in the plan (though debt usually is). Minimal investments in cybersecurity, disaster recovery, and business resumption planning are a way of life. How many companies had detailed contingency plans for remote work before the pandemic exploded?
Digital transformation is all the rage as companies transform their business models and processes with digital technology. But pandemics require far more than transformation. They require reinvention. A good current example is the education market. Before the COVID-19 crisis, the market was stable. Grade schools, high schools, colleges, and universities implemented repeatable business models with great success. But as soon as the crisis hit, they scrambled to transform their business models and processes, especially the ones that involve students. Enormous stress was immediately placed upon the learning management systems (LMSs) operated by teachers, especially at the elementary (or primary) school levels, who were unskilled in, and likely never even used, these systems. Schools abruptly cancelled physical events. They furloughed members of their faculty and staff. They sent students home.
Families fortunate enough to afford technology and Internet access were forced to homeschool their kids with the help of faculty who were learning "on the (LMS) fly." Can Brightspace, Moodle, Schoology, Blackboard, Lessonly, Saba, Canvas — and who knows how many other LMSs — scale fast enough to support effective learning and training? And why are there so many of these systems? Parents and kids in the same household are using several different LMSs — and several videoconferencing systems, like Google Meet and Zoom, as well. Is this optimal? Do companies, schools, households, faculty, or students know what they're doing? Or are they just implementing incomplete and inadequately tested contingency plans in a desperate attempt to virtually replicate the in-person experience? Is it even possible to make contingency plans for educational crises of the second kind — even after the "practice" we've received from COVID-19?
Since COVID-19, educational institutions have been planning around several scenarios. The first is a return to normal as soon as possible. The second is a delayed return to normal. Another scenario requires all sorts of permutations around return, including masks, alternating schedules, and shielding, among many other steps necessary to protect students, faculty, and staff. All these scenarios are transformational.
The fourth scenario requires reinvention: what if "schooling," as we've defined and delivered it for centuries, goes away? What if the pandemic lasts longer than expected? What if it returns before a treatment or vaccine is available? What if another virus strikes? What if there's a massive earthquake in Silicon Valley? Or multiple, simultaneous terrorist attacks? Or a nuclear war? These are crises of the second kind. How should organizations plan and respond? Can they plan and respond? Can the full range of crises of the second kind even be anticipated? The answer to this question is "no," but their broad features can be.
In the example of education, institutions can theoret­ically anticipate the absence of students in physical locations. They can anticipate a distributed educational delivery system that relies upon technology platforms and parent lesson management. They can anticipate massive shifts in their revenue streams. They can also identify the players best able to respond to these changes. But this kind of anticipation — and large investments in an anticipatory engine — is difficult to find — or financially justify — in any educational institution or corporation, especially with the typical incentives and vested interests dedicated to the status quo.
So the first step is anticipatory: planning for the apoc­alypse of the business model that has performed so well for so long. Are there resources available to "anticipate"? Smart governments "plan" for pandemics. They write white papers, have offices with teams, and even, sometimes, stockpile supplies. While it's impos­sible to know where, when, or how these crises will occur, smart governments at least try to have an infrastructure in place to respond when they do. Do corporations have these teams in place? Do they have playbooks to at least get them through the first phase of a crisis of the second kind? A few do, most do not.
Companies hope that crises of the second kind never happen. That's their default strategy. Silly, we know, while we're in the midst of such a crisis right now. But the disconnect between transformation and reinvention is just too large to navigate. Crises of the first kind are manageable; crises of the second kind may never be. The very premise of successful "business" threatens the possibility of reinvention. (We've all heard the phrase, "If it ain't broke, don't fix it.")
All the methods, tools, processes, models, people, structures, and money undermine any and all attempts to react in real time to events these resources were never intended to anticipate or address. If they were, "business" could never be as profitable as it is. And therein lies the conundrum around crises of the first versus the second kind. Without steady, credible leaders at the helm, sea changes described as mere snowstorms may turn into insurmountable tsunamis.
In This Issue
The five articles in this issue of Cutter Business Technology Journal (CBTJ) focus on crises of the first and second kind, with specific reference to COVID-19. The first piece, by Noah Barsky, level sets to business basics. Barsky notes that "the convergence of tech­nology trends, evolving business dynamics, and the economic ramifications of the pandemic require astute business management, particularly in organizations now left with little room for error." The article is a reminder that all management must be anchored in simple, adaptive business acumen.
Next, Yesha Sivan and Yonatan Rabinovitch discuss how to manage "black swans" (crises of the second kind) with what they propose as the Three New Normals (3NN) framework. The authors explicitly state that the 3NN framework "was designed as a flexible descriptive framework, allowing for optimism, pessimism, or realism." It focuses on how digital leaders can navigate sea changes.
Through a series of equations, Dave Cherry then outlines how to maintain customer loyalty before and after crises. He asserts that "for technology and business leaders to count among the bold, deciphering how to capitalize on this opportunity requires a foundation of confidence, flexibility, and resiliency — all anchored and enabled by knowledge." Cherry provides specifics about how to manage customers at home, when they're ill, or when they're caring for others. The point? Crises change customer relationships and, therefore, customer relationship management. Crises require everyone to adapt if they want to survive and compete.
Our fourth article, by Cui Zou, Wangchuchu Zhao, and Keng Siau, responds directly to COVID-19 by framing the skills and training necessary to survive crises of the second kind. The authors focus on the importance of helping organizations prepare beyond the current pandemic by teaching everyone how to use the tech­nology tools — and exploit the processes — around remote working. The authors explore myriad online/blended education avenues "to help companies pro­vide online and remote training during and after the pandemic crisis."
Finally, Mark Lee gets specific about how pandemics should solve long-term work-from-home (WFH) problems. He discusses why virtual private networks (VPNs) are problematic, how they can — and should— be replaced, and why we need a long-term WFH strategy. The most important contribution of the article is the awareness it forces around the need to create and maintain creative and effective remote workplaces. Just imagine if we all had planned how to WFH "just in case"? Or if we had anticipated what we'd need to survive remotely?
The articles in this issue of CBTJ discuss various aspects of corporate crisis management and how business technology can help companies deal with crises of all kinds, but especially those that change everything. Some of the articles are strategic; some are tactical. But they're all engaging and useful, with purposeful points of view. Remember that corporate crisis planning and management is a continuous activity that must be acknowledged and well-funded. Crises — especially crises of the second kind — never miraculously disappear. They cannot be ignored. They can kill a company.
Thus, organizations must define and simulate the range of crises they will inevitably face. They need internal teams to accomplish this strategy: crisis management is not an activity that can be outsourced to the lowest bidder. The range of crises must include "conventional" crises and black swans — crises of the second kind that require much more than return-to-normal plans, or even transformations. Reinvention is required. How many companies plan how to disrupt their own successful business models? How many devote serious resources to this kind of planning?
We hope you enjoy the collection we've assembled here and that our authors stimulate some creative thinking about how we manage our companies, ourselves, and our crises. It's important to appreciate the crisis spectrum and especially those crises — like pandemics — that require reinvention. We hope this issue of CBTJ changes the way we all think about crises and crisis management.