Data & Digital Architecture — An Introduction
Posted January 6, 2021
| Technology | Amplify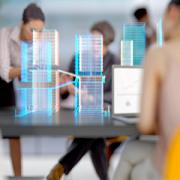 Digital transformations aren't games of chance, but they do require big and bold commitments in the midst of uncertainty to reinvent the business rather than just improve it incrementally. Digital transformation — as the use of technology to radically improve the performance or reach of an enterprise is called — is an approach that visionary CEOs are pursuing. Three enterprise areas (business models, customer experi­ences, and operational processes) have become the focus of such transformations, which helps transformation leaders concentrate their skills, expertise, and resources in the best way possible and ensures that the correct leaders are aligned to a specific effort.
The statistics on digital transformation efforts that fail to produce the expected results vary depending on the institution doing the measuring and researching. But it is safe to say that the range is within 60%-85% for large enterprises across the global economy.
To avoid that fate, digital transformation and enterprise architecture (EA) leaders have a choice to make in developing and modernizing their data and digital platforms and architecture to enable and support these transformational efforts. Managed as an iterative balance between building the foundation from a technology perspective and through business use cases, the data and digital architecture platform can be an asset in ensuring that digital transformation efforts are carried out in such a manner thaIn this issue of Cutter Business Technology Journal (CBTJ), we explore how enabling successful digital transformations through data and digital architectures can facilitate the enablement of the value streams and customer journeys companies build to stay in touch with changing client expectations and user experiences, all while building out the organization's digital backbone.t they align to the enterprise and its approach to transformation.
In This Issue
In our first article, Cutter Consortium Senior Consultants Olivier Pilot, Michael Papadopoulos, and Michael Eiden take a two-part approach to discussing the design of adaptive digital and data architectures. First, they propose a way to design solutions that actively identify and address key uncertainties and concerns so that the right kinds of EA artifacts will emerge to answer key questions about user desirability, technical feasibility, and financial viability for the right people. Second, they share patterns and techniques that can be used to design and build digital and data architectures with a high level of flexibility and adaptability that can better support the changes in priorities that successful digital transformation efforts need to be able to steer.
Any digital transformation requires significant changes across many dimensions, ranging from operating models to funding models to platform architecture, among others. In our next article, Eric Willeke argues that keeping these changes aligned can be one of the hardest elements of digital transformation, especially when organizations try to sidestep the challenge of evolving their current technology organization to the required level of capability by creating a new, "digital" organization instead. Such attempts fail to address three problem areas that can trip up any digital transformation effort: fragmented value streams, poor decision governance, and inadequate management of the business capability portfolio. Willeke identifies the symptoms of these ailments and proposes two critical moves organizations can make to correct their value stream and organizational fragmentation. Finally, he discusses specific business capabilities organizations must master in order to enable the robust change management that digital transformation requires.
In our third article, Thomas Gossler writes about how a digital ecosystem platform demands a solid architecture for data and infrastructure on top of which a network of stakeholders can engage in valuable interactions with each other. The journey from a pipeline business model to an ecosystem platform is no small feat, and Gossler shares the approach he and his colleagues at Siemens Healthineers took and the lessons learned in their seven-year digital transformation. In that time, their initial small cloud-based product has grown to a company-wide program for digital transformation of all of Siemens Healthineers' major business cases. Gossler relates how the company learned to think in platform terms, avoided the "shadow IT" trap, and promoted exponential thinking to unleash the platform's full potential. This case study provides many useful recommendations for others to follow in their own transformation journeys.
Next, Timothy Chiu discusses how data and digital architectures require improved application security and how the new security framework from the US National Institute of Standards and Technology (NIST) endorses this view. As more and more organizations move rapidly to the cloud, he argues, applications and their associated data are increasingly at risk. With support­ing data from multiple sources, Chiu frames the risks through examples of data breaches across multiple industries and geographies. Fortunately, he says, NIST is on the case. In its recently revised "Security and Privacy Controls for Information Systems and Organizations," or SP 800-53, NIST adds two application security technologies to its framework, runtime application self-protection (RASP) and interactive application security testing (IAST). Chiu outlines the new NIST requirements and their implementation timeline, as well as explaining what RASP and IAST are and how they can improve and advance application security for organizations.
Finally, Sunny Ray, Joab Meyer, and Karl Johnson share part of a research project that seeks to "demystify digital transformation" through findings from interviews with senior leaders at seven firms undergoing digital transformation in a variety of industries. One of their major initial findings is the degree to which senior leaders' digital mindsets determine the success or failure of these initiatives. Executives who regard — or come to regard — IT as "an investment-worthy enabler of innovation, new business models, and growth" rather than a cost center are more likely to "incorporate digital objectives into their corporate strategies, invest in digital infrastructure with an enterprise-wide view, and grant digital investments longer-term timelines to yield results." The authors highlight the importance of this enterprise-wide view, explaining why a project-by-project approach rarely produces true or lasting digital transformation. Using a case study of a data lake project at General Mills, Ray and her coauthors show how a conscious effort to transform the digital mindsets of executives at the consumer food giant led to a successful digital transformation that is driving improved business outcomes.
Next-Generation Data & Digital Architecture Help Build Your Digital Backbone
Collectively, this group of articles represents a comprehensive view of some of the vital topics all technology leaders must consider when weighing their data and digital architecture design decisions. Critical to this effort is striking the right balance between building the digital capabilities platforms to the scale needed to support an enterprise, which can take a signifi­cant amount of time and investment, and delivering incrementally on business use cases that provide real business value. The right balance results in building a digital backbone in the organization alongside the use cases, the two components symbiotically nurturing each other and, as a result, avoiding both spaghetti-type architectures and the gold-plating of platforms.
Digital transformation is commonplace in today's economy. Companies in industries where industry actors and market forces follow a more traditional path and that are undertaking large investment efforts to transform may end up with disjointed, non-sustainable results due to a lack of coordination and the absence of a framework and digital backbone. The digital backbone can be an asset in ensuring that digital transformation efforts are carried out in such a way that they align to the enterprise and its approach to transformation. It is essential that the methodologies, skills and talent, and technology tool chain and infrastructure be created such that they can be easily consumed and adjusted as the company changes.
The existence of a digital backbone in an organization means that anyone aspiring to transform different parts of the enterprise will be able to leverage the digital backbone in a consistent and sustainable way, ensuring that each effort connects to and leverages a common platform. Digital transformation leaders are starting to realize that a powerful digital services backbone to facilitate rapid innovation and responsiveness is key to successfully executing on a digital strategy.
Making sure there is a sustainable foundation in place for the digital transformations an enterprise is considering is critical; this is the core value proposition of the digital backbone. The challenge of establishing such a foundation can be the time it takes to build it and the investment required to nurture it while the company is continually under pressure to perform and innovate.
The articles in this edition of CBTJ provide technology executives and architects a great set of perspectives on building out a digital backbone. We hope the insights they offer on next-generation data and digital architectures will act as both a practical guide and inspiration to starting or continuing this journey in your own organization.