Data Harmonization through Open Industry Standards: A Financial Services Case Study
Posted March 20, 2018
| Technology |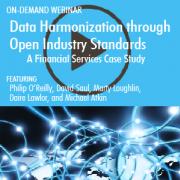 In this on-demand webinar, featuring Cutter Consortium Senior Consultant Philip O'Reilly and 4 of his colleagues, you'll discover how data harmonization — via the marriage of open industry standards and semantic database technologies — results in improved outcomes in data quality, analytics, risk management and governance.
Not a Cutter Community Member?
Sign up today to read this and all other articles.