Digital Architecture as an Enabler of Digital Transformation
Posted May 13, 2020 in
Business & Enterprise Architecture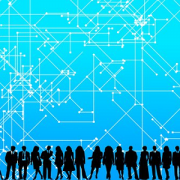 Any company that hopes to survive in the digital age must move beyond zero sum thinking. The recipe is easy to understand, but hard to implement; leaders must set and communicate clear business goals in terms of time to market, quality, and cost. They must then invest the necessary resources for everyone in the organization to collaborate so they can solve the problems that prevent them from achieving these goals. Nothing should be out of scope — enterprise architecture, process, budgeting, and governance, risk and compliance.
Companies that cannot distinguish between digitization and digital transformation are making a severe blunder in this age. Digitization refers to changing analog data into a digital format. Digitalization, in contrast, refers to using digital technologies to improve business models. Digital transformation usually involves several digital­ization initiatives. In essence, we digitize information and digitalize processes and business operations, but we digitally transform the business and its strategy. Leveraging technology to enhance business performance fundamentally and introduce digital capabilities, as well as enhance the use of legacy platforms such as CRM to change customer relationships, internal processes, and value propositions, is an example of how you transform a business digitally.
In addition to this, we can take digital transformation a step further with the crossing of digital architecture with other disciplines — such as customer experience, cloud computing, data science, manufacturing, and physical and life science such as biology, chemistry, biochemistry, and physics — to birth new business models and revenue streams. Digital transformation involves rethinking a business's value proposition and not just its operations. At the core of this transformation is digital architecture.
Unfortunately, most digital transformation initiatives fail not because they lack capabilities or intelligent, talented people but because they lack precise objectives, digital leadership, and an innovative mindset. Goals — such as what the target business outcomes are — must be clearly defined because a digital transformation journey on its own is already a very complicated endeavor. Digital architecture is what simplifies the journey and makes sense of it. It is vital to begin with a clear objective in order to create the right architecture.
Another leading cause of failed digital transformation initiatives is a lack of technical adaptation to changing consumer, customer, and emerging technologies. A digital architecture, which should be agile and evo­lutionary by nature, helps embrace uncertainty and efficiently deals with change. In a bid to hastily launch "digital applications," companies without a supporting digital architecture introduce complexity to their IT landscape, making it tough to manage.
Frameworks and References for Digital Transformation
Some reference architectures and frameworks for digital transformation exist today, and more are in the works. In the telco industry, for example, the TM Forum's Open Digital Architecture (ODA) project is a "more agile replacement for traditional operational and business support systems (OSS/BSS) architecture.… It combines proven cloud-computing best practices with TM Forum's work on zero-touch orchestration operations and management; digital ecosystem man­agement; data analytics; artificial intelligence (AI) and a suite of more than 50 Open APIs in use today by over 600 companies worldwide."
The Open Group, a global consortium that works to develop open, vendor-neutral technology standards and certifications, has released the Digital Practitioner Body of Knowledge Standard (DPBoK Standard), which maps to the consortium's IT4IT reference architecture: "The IT4IT reference architecture is elaborate enough to support the largest digital delivery organizations and includes components that are critical from the earliest days of an organization's evolution." At the time of writing, the consortium was also working on the Agile Architecture Framework Standard (aka O-AAF Standard), which is "a comprehensive revision of core architecture practices — updated to compliment [sic] modern, digital operating models and agile development methods." From a software architecture per­spective, reference architectures such as the Internet of Things (IoT) Reference Architecture and the Microservices Reference Architecture support digital transformation.
Digital Architecture in Practice
There is no silver bullet for executing a digital strategy, and while several approaches for formulating one exist, execution requires a clear plan. The first step usually is to define a digital operating model and digital enter­prise architecture that allow for the rapid integration of new digital technologies to fuel the business transformation. What happens next depends on several factors, such as the industry and the company's core competencies and offerings. However, the suggested next steps and techniques for execution include:
Revamp traditional enterprise architecture (EA) principles. EA teams should revise traditional architecture principles, policies, and standards to enable the adoption of digital architecture tenets and best practices. These principles should not only emphasize operational aspects, but they should also focus on customer centricity; that is, the customer lifecycle, customer experience, and customer value.

Leverage design thinking. Digital architects may provide a more desirable solution if they collaborate with the customer and listen to these end users in order to improve their experience. Architects can drive the solution by facilitating design workshops and using techniques such as design thinking.

Ensure C-suite stakeholder engagement. Architecture teams can help fast-track a company's digital transformation initiatives by engaging in conversations centered around business strategy, which now deals more with technology. Enterprise architects can develop a close alignment between business and IT by helping to interpret, in business-speak for business leaders and managers, architectural issues or opportunities with emerging technologies.

Focus on customer pain points. Digital transforma­tion involves recreating existing business models with digital technologies and platforms. This state­ment implies that almost every business right now is an IT company. Hence, instead of concentrating on the enablement of "business" priorities, these companies should focus on the delivery of digital experiences for the customer using the technology. Digital architects can align the IT function's priorities with the business's priorities by tracking their accom­plishments concerning the business capabilities that the architecture delivers. Such capabilities should focus on providing solutions to specific problems that the organization's customers are experiencing and should result in delivery of specific business outcomes; for example, implementing predictive analytics to know what the customer may want next and proactively suggesting these products or services to the customer.

Enable innovation with emerging technologies. Experimenting with innovative ideas and rapid prototyping are crucial capabilities for digital companies, especially for large ones, where inno­vation is usually stifled. Introducing a digital architecture would enable prototyping and proof of concepts via regular hackathons and open source communities.
[For more from the author on this topic, see "Defining Digital Architecture: Shifting the Focus to Customer Centricity."]