Digital Twins — Opening Statement
Posted February 23, 2021
| Leadership | Technology | Amplify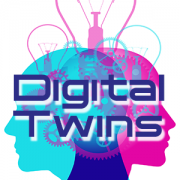 CUTTER BUSINESS TECHNOLOGY JOURNAL  VOL. 34, NO. 1
 
Over the last 20 years, my career has kept me immersed with the Internet of Things (IoT), and for the past five years, I have been a member of the Microsoft Azure IoT product team, leading its strategy for IoT standards and consortia. Back in 2014, when I first served as Guest Editor of Cutter Business Technology Journal (CBTJ) for an issue on IoT, the IoT market was young, and there were many challenges and opportunities associated with it.
We have largely been successful in advancing IoT to the next phase since then. Devices are sending data back to the edge and to the cloud, enabling digital transformation and new insights along the way. But to truly realize IoT's benefits, we need something called a "digital twin." As often happens early in the technology cycle, definitions vary. Some define a digital twin as something virtual representing a real thing. But is a simulation without real data really representing the real thing? Is a digital twin used during design versus operations the same thing or different? The Digital Twin Consortium recently published its definition of a digital twin,1 and it has been vetted and reviewed by hundreds of companies of varying types and sizes:
A digital twin is a virtual representation of real-world entities and processes, synchronized at a specified frequency and fidelity.

Digital twin systems transform business by accelerating holistic understanding, optimal decision making, and effective action.

Digital twins use real-time and historical data to represent the past and present and simulate predicted futures.

Digital twins are motivated by outcomes, tailored to use cases, powered by integration, built on data, guided by domain knowledge, and implemented in IT/OT systems.
This definition tells us several key things. First, a digital twin is not the real thing; rather, it represents real-world things such as assets or even people. Digital twins can also represent processes with data and algorithms. Synchronization is a very important element: digital twins and the things they represent can exchange data bidirectionally, and the digital twin must have real data to represent the real thing. Whether synchronization is in real time, or happens infrequently (or even with a person in the loop), is defined by the use cases.
Today's digital twin market is similar to the IoT market several years ago — and thus a good time for us to identify the challenges and opportunities and help drive the market.
IoT provided the baseline for us to get data from devices, manage it at the edge, or analyze it in the cloud. But that's only part of digital transformation. As we move from using IoT to perform remote moni­toring or predictive maintenance of systems and things, digital twins can add the context of places and insights in order to perform better asset tracking, occupancy tracking, or space utilization. When we add people and processes, we can improve experiences and impact productivity, comfort, and satisfaction.
Digital twins combine IoT device data with business data but also require the ability to describe industries, ontologies, things, and their relationships. Moreover, they necessitate supporting models of 2D and 3D space and geometry. They also require the capability to express behavior, through simulations and heuristic models. Finally, they must correlate to time so that data and relationships can be observed over time as they change. With all of these capabilities, digital twins become applicable to many scenarios and will be an integral part of the way businesses operate and run going forward.
Digital twins provide many benefits, but as with any nascent technology, they face challenges. Today, such obstacles include security, business models, inter­operability, and lack of standards. Integration is needed between digital twins and legacy systems, between similar digital twins from different manufacturers, and between components within a digital twin. Another challenge is the number of potential scenarios, from managing nuclear reactors and smart buildings to vehicles, healthcare, and more. What is common in such scenarios, and what is different? Is the architec­ture similar or different? What about product phases, design, engineering, prototype, deployment, and operations?
The landscape is complex, and many companies are working on various aspects of digital twins. What can you do to get started?
Learn more about digital twins and how they fit into your digital transformation, and understand the value and ROI they generate. How long does it take to deploy a digital twin? How long will it take to achieve the ROI?

Understand the use cases and how digital twins fit into your business. Are they part of your operations? Product development? Customer solutions?

Understand the architecture and capabilities that make up a digital twin. What type of training and skills does your organization need? What ecosystem is required, and who are your best vendors and partners?

Begin to experiment through well-defined proofs of concepts and pilots. How can you best use your data, and what is the time frame for the digital twin to inform your decisions?
Over the next few years, we will see new ecosystems and solutions emerge that are enabled by digital twins and will achieve the following:
Movement from connected assets and individually connected industry environments to a set of interconnected ecosystems across industries

Better products with shorter time cycles

Improved operations and maintenance of systems and increased performance

Enhanced customer and employee experiences using mixed reality and artificial intelligence

New business models across the supply chain
It takes a village and ecosystem to provide all the capabilities found in digital twins. To highlight this challenge, the articles in this issue bring to life the various aspects of digital twins use and applicability.
In This Issue
Sameer Kher starts us off with a discussion on the important topic of simulations. Simulations have been used for years in modeling and design. More recently, they have become a core aspect of digital twins, simu­lating outcomes during design phases and in using real data during operations. Kher describes the phases associated with applying simulation in digital twins as well as use of simulation in areas such as predictive maintenance. He concludes with describing how you build, validate, and deploy a simulated digital twin.
Next, Chloé Audigier and Dileep Mangsuli explore digital twins in the medical domain, specifically regarding modeling humans and their care. They explore the complexity of data related to various organs and scenarios, especially how models must be based on the behavior of many people yet personalized to a specific person. Medical digital twins can help predict therapeutic outcomes and how an individual will react to a particular approach. This is a promising field with endless applications and possibilities.
In the third article, Madison White explores how digital transformation in the transportation industry is being combined with automotive digital twins to produce the next generation of autonomous vehicles. She looks at the challenges facing production-scale deployment of digital twins, including digital twin accuracy, connec­tivity, data accuracy, interoperability/standardization, and trust/security. She concludes with the cost benefits of developing a vehicle using digital twins, including predicting maintenance, and thus lowering cost of ownership during the lifetime of a vehicle, and cleaner air.
Connecting software and assets poses unique new security threats and concerns. In our next article, Jon Geater investigates the relationship of security and trustworthiness to digital twins. He looks at the possible security impact of the analog world on the digital world and how to address it. His application of the "nature versus nurture" analogy to digital twins is compelling. Geater discusses several security-related topics that organizations should consider, and he ends with a look at how to address digital twin security as we move forward.
Next, Jacqueline Corbett, Adnène Hajji, and Sehl Mellouli discuss how digital twins can promote smart, agile, sustainable cities. First, the authors present the concept of organizational agility and the ways it promotes organizational success. Then, they explain how digital twin dimensions and capabilities support and contribute to organizational agility. The authors also present some examples and conclude with recom­mendations for cities in their consideration for the use of digital twins.
By now you should have concluded that there are many types of digital twins and many industry applications. How do you navigate the options and alternatives to determine what you need? In our last article, Łukasz Paciorkowski and Piotr Karolczak present a digital twin maturity model that can help organizations make better decisions around the structure of digital twins applied to industrial applications. The model presents several capabilities that organizations can explore across several maturity levels.
Opportunities & Challenges
The articles in this issue of CBTJ have been specifically selected to demonstrate the breadth of the applicability of digital twins, as well as the richness of scenarios and business domains that can benefit from them. Digital twins are the next phase of digital transformation, enabling us to create rich systems of ecosystems between different industries all working together.
Of course, digital twins are a relatively young tech­nology, so there are challenges that we must address. We should first focus on interoperability and standards between digital twins and legacy assets, between digital twins of different vendors, and between digital twin components. We also need to consider the security impli­cations of the analog/asset and digital/software worlds, and, as always, clearly demonstrate the value and ROI that digital twin business models bring. We hope this issue of CBTJ will inspire you to leverage your IoT solutions and data by using digital twins to create higher-level solutions that drive your business forward.
Reference
1"The Definition of a Digital Twin." Digital Twin Consortium, accessed February 2021.
---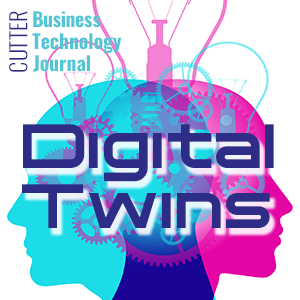 Digital Twins
This issue of Cutter Business Technology Journal explores the various aspects of digital twin uses and applicability, and how to leverage digital twins to create higher-level solutions that drive your business forward. Available for purchase in the Cutter Bookstore.