Digital Twins for Places: New Revenues Await
Posted April 30, 2023
| Technology | Amplify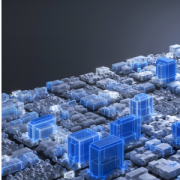 AMPLIFY  VOL. 36, NO. 4
  
ABSTRACT
Colin Dominish discusses a variety of revenue opportunities that could be realized by applying digital twins to real estate and buildings. He discusses improving building performance and some opportunities to enhance tenant experiences.
The benefits of digital twins have been much debated since they first appeared in the space industry in the late 20th century. Fast adoption and benefits flowed in some industries, but many are still questioning their value. Adoption across the property and real estate industry has been haphazard, with little focus on new revenue streams. This article explores the potential for revenue streams from digital twins for places.
Most of the digital twins in property and real estate have been a response to changes in our society and on our planet. A recent paper by the Australian Computer Society titled "Data and the Digital Self" noted that "major drivers for this change to a digital future world are coming from the intersection of a growing, ageing, and urbanizing population; a globally changing climate; and a response to an increasing number of global challenges and pandemics."1 Hidden among these drivers are opportunities for digital twins to unlock new revenues during placemaking.
The term "placemaking" is even harder to define than digital twin, but in this article, we mean creating places with social, environmental, and economic value that are meaningful, vibrant, and enduring. Placemaking requires a combination of global competence and authentic local engagement. It means defining the best of all possibilities while being disciplined enough to deliver that vision sustainably and in partnership with the community.
Digital twins have the potential to solve some significant challenges that exist in property and real estate:
Reduce real estate costs

Decarbonize buildings facing rising energy prices and increased regulations

Improve building resiliency

Enhance the workplace experience

Solve low occupancy issues2
This involves property and real estate organizations:
Better accessing, integrating, and optimizing valuable data buried in varied data offerings

Implementing fully connected building platforms that leverage data models and ontologies

Providing greater interoperability across expanding partner ecosystems to enable greater insights and value-added processes
The list of components and interfaces that could make up a digital twin for use in property and real estate is large. Typical areas are shown in Table 1.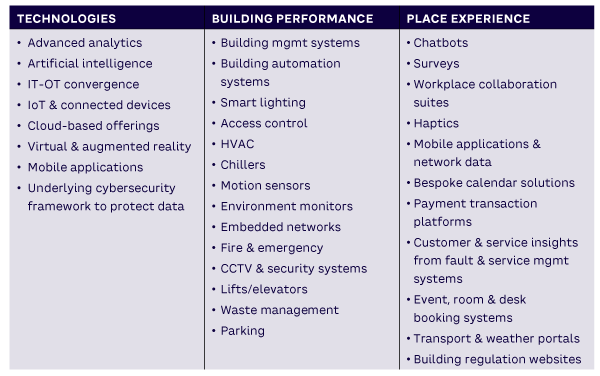 Major Benefits of Place-Related Digital Twins
Using digital twins, placemaking can enter the digital realm, unlocking benefits such as:
An end-to-end view of the physical-property lifecycle, unearthing cause and effect between how places are created and how they are subsequently used

The ability to simulate differing outcomes for the use of place by varying inputs and discovering new outputs

Applying predictive analytics (using artificial intelligence [AI] and machine learning [ML]) to forecast what might happen next to improve the use of places
With that in mind, some benefits for the property and real estate industry may already be obvious to the reader. For example, digital twins can optimize building performance and efficiency, improve occupant and tenant experiences, drive sustainable outcomes, and increase revenues (see Figure 1).
Optimized Performance & Efficiency
Digital twins can help property professionals optimize their operations, reducing costs and increasing efficiency. For example, by monitoring energy consumption, digital twins can identify energy savings and reduce utility bills. They can predict maintenance needs for buildings and equipment to avoid costly repairs and downtime. Real-time data can optimize the HVAC, lighting, cleaning, and waste management systems.
Property and real estate professionals were asked to do more for less because of the COVID-19 pandemic. For instance, the shift to hybrid working left them having to rethink how spaces are designed, how they operate, and how they attract and retain top talent. Tools and data to redefine and optimize space tend to be fragmented across multiple systems and are often contained in spreadsheets, limiting the ability of property professionals to create accurate forecasts. In other words, the task of optimizing smaller spaces to meet greater utilization expectations lacks proper support.
Enhanced Tenant Experiences
Digital twins can improve tenant experiences by providing insights on factors like temperature, lighting, technology, workplace behaviors, and occupancy levels. For example, at Sydney Place, a vibrant mixed-use precinct in one of Sydney, Australia's oldest and most-loved gathering places, a next-generation environment was put in place to support people's health and wellbeing. Sensors capture the level of ambient light, ambient temperature, sound pressure, humidity, carbon dioxide, and volatile organic compounds. By feeding this data into a digital twin, any significant variance in levels can quickly be identified and addressed to ensure the environment operates at the most effective levels for tenants.
Digital twins can also identify ways to maximize workplace performance and grow employee engagement and retention by focusing on how people use the office while keeping in mind how the office operates. Workplace managers are starting to see how data-driven initiatives can result in collaborative, hybrid work environments people want to return to, despite a previous preference for working from home.
Sustainable Outcomes
Digital twins can clearly illustrate how buildings can be constructed in the most efficient manner. They can be used to select the most sustainable and least resource-intensive materials, forecast how much energy is required to operate a building effectively before building it, model renewable-energy sources in the building design, and forecast the nature and volume of waste products created by the building. After construction, digital twins can be used to manage building operations, a cost-efficient way to ensure they operate within planned sustainability levels.
Sustainability benefits are multiplied when digital twins are used to compare findings across a portfolio of buildings. Property and real estate professionals can maximize value by leveraging insights from a successful initiative in one location across all the places they manage.
10 Potential Revenue Streams
To become more valuable, buildings need to provide places for people to work, live, and play. Digital twins help with this by contextualizing, integrating, and synthesizing tenant experiences to extract cause and effect.
A report called "The Great Return: Emerging Insights from the Pandemic and Their Impact on the Future of the Workplace" found that "the workplace can create strategic advantage for businesses by stepping up the way it supports innovation, connection, and customer engagement."3 A study titled "The Tenant as a Customer: Can Good Service Improve Commercial Real Estate Performance?" noted that attention to satisfying the needs of occupiers might reduce void periods and maintain rental income when property supply exceeds demand.4 In "Data and the Digital Self," the Australian Computer Society stated:
Efforts to create joined-up customer experiences make it easier to engage with service providers and hopefully deliver more effective outcomes. For many years, businesses have tried to create a better, more attractive customer experience, delivering increasingly personalized services. New services and capabilities promised by access to data and digital technology present enormous benefits for users and citizens — delivering services and information to people when they need it, wherever they happen to be, whenever they need it and in whatever circumstances.5
These observations point to new revenues being unlocked through greater understanding of how people experience places. Here are 10 examples:
1. Improving Retail Sales
Digital representations of footfall within a mall provide real-time data and insights into the performance and behavior of shoppers. Often visualized as a heat map, they provide greater understanding of how people move while in the mall. Property owners can then create virtual scenarios to learn what happens when certain changes are made. Increased footfall? Longer dwell times? Channeling shoppers toward tenants with low patronage? Advanced digital twins can use citywide data sets to understand how shoppers move across multiple retail assets (or travel past those assets without visiting them).
For example, Lendlease activated retail spaces within PLQ, 313@Somerset, JEM, and Parkway Arcade in Singapore using its Podium Property Insights digital twin during the 2023 Chinese New Year holiday. Using its inhouse mobile phone app, it deployed a digital wallet, and Web3 enabled play for customers involving finding digital objects placed within the retail centers. A digital twin of the retail malls was used to "place" the objects.
Forty-nine tenants participated by providing 26,000 compelling in-store offers that could be collected by customers as part of the game. More than 1,500 wallets were created within 48 hours, and many customers traversed two or three malls to collect the digital objects. Average play time was around 15 minutes, and 33% of customers redeemed the offers within the first two weeks of the campaign.
2. Boosting Ad Revenue
Mapping advertising signage locations in a digital twin to understand the frequency they are passed by onlookers and knowing how long people look at the signage (by cameras and sensors informing the digital twin) gives property owners a greater understanding of what attracts eyeballs. Digital signs with rotating content can be matched to people interacting with the sign (e.g., using amalgamated data of search histories on retail mobile-phone applications to determine which ad gets displayed the longest).
3. Improving Service Availability
Visitors making their way through a place are often unaware of the full range of products and services available. Location-based services address this by pushing services or information to visitors. Digital twins can provide a more sophisticated version, giving visitors an opportunity to select products and services of interest before or during their visit. For example, being able to select a car park, order a meal, locate a desired product in a store, book a haircut, receive an alert about dry cleaning pickup, and buy a movie ticket before entering a retail precinct lets shoppers maximize — and possibly widen — their set of experiences when they arrive. In coming years, autonomous services provided by robots will change the way people are served within a place. Linking availability and access to autonomous services (like a car-parking robot or a waiter robot) from within the digital twin will likely increase adoption.
4. Providing Immersive Entertainment
Immersive entertainment companies blend visual technology (virtual, augmented, mixed, or extended reality), audio technology, dynamic interfacing, and other interactive tools to create a deeper user experience.
For example, Austrian company Limes designs environments for creating immersive live experiences. Its integrated high-tech concert and multipurpose venues are made for the digital age, enabling unique live spaces where artists, presenters, and audiences can immerse themselves in spectacular multidimensional events, unleashing their creativity and pushing live entertainment to the next level. Audiences participate by being physically present while being virtually immersed in a digital twin of the location where they can interact with each other.
5. Providing Virtual Tours
Digital twins create virtual staging and tours of properties that attract visitors and potential buyers (or renters). The Louvre Museum in Paris created a digital twin of the museum that allows visitors to take a virtual tour of its collections. The tour includes detailed 3D models of the museum's galleries and exhibits, providing visitors with a realistic experience and generating additional revenue. Real-time data gathered on visitor behavior and preferences during digital tours can be used to optimize the physical space's layout and lighting to improve the visitor experience in the real space.
6. Providing Gamification for Training and Education
Gamification in the workplace is on the rise, helping workers mitigate risks in complex environments and better perform difficult work tasks. Worker actions can be tracked by integrating sensors and capturing data in a digital twin. Gamified actions are then selected in the digital twin according to the task and worker preference. Several digital twins can interact with each other to provide holistic information about the workplace, work patterns, and employee knowledge within the gaming engine. This provides a richer understanding of risks in the work environment, challenges related to certain tasks, and ways for workers to enhance productivity and effectiveness while remaining safe.
7. Promoting the Circular Economy
In "Digital Twins for the Circular Economy," the authors note that:
Accurate information plays an important role for the circulation of materials and products. It influences the economically and ecologically successful execution of processes such as reconditioning and the corresponding supply chain management. Digitization concepts, such as digital twins, enable the relevant information to be made available to the right actor at the right time in a decentralized manner.6
The article describes the complex interactions required by multiple actors to enable a recursive supply chain that supports a circular economy. The digital twin is touted as "a virtual collection of information regarding a specific product and its entire lifecycle — from the design phase to end-of-life management." With supply chain challenges currently faced by the building industry after the pandemic, and a continued focus on sustainable outcomes for the future, digital twins could become an important way to track materials from assets at their end of life and recycle them into new buildings.
This concept is being applied by Lendlease at the Milano Innovation District (MIND) in Milan, Italy. Located at the former Expo 2015 site, this is a new region for science, technology, and knowledge that takes a humanistic approach to building and design and is setting new standards for sustainability, wellness, safety, and productivity.7
The project envisions the precinct's new and older physical buildings as existing within a single digital ecosystem. Transitioning away from traditional design processes (which are applied to one building at a time) creates consistent experiences and reliable services for tenants, regardless of the building in which they're located. AI, the Internet of Things (IoT), and cloud technologies are advancing the capabilities of individual buildings in most new precincts, but Podium Property Insights is providing MIND with a software-defined, containerized digital twin architecture that's changing building design across the precinct.
New possibilities for reconditioning the site have evolved from combining various technologies to solve the unique problems and requirements of the MIND precinct in a cost-effective, integrated fashion. Determining how buildings should respond as the precinct grows means asking questions like:
How do we gain data from the way people live, move, and operate within a space?

How do we take a good building and make it better?

How do we improve as we move to the next building?
The project leverages the best available technology in the emerging spaces of data, ML, IoT, and digital twins; the key is the way each component is brought together to solve real problems and create value specifically for the precinct.
8. Personalizing Utility Consumption
In "The Future of the Office Building," the authors describe how "buildings can generate revenues from virtual power plants by capitalizing on control of energy usage. These virtual power plants can alter office-building business models by providing a new stream of potential revenue for building managers."8 Digital twins provide the perfect way in which to replicate the complexity and identify ways to connect stakeholders within the virtual power plant while simulating and predicting better potential outcomes and revenue-generating scenarios.
9. Offering Space as a Service
Companies are constantly looking for business models that let them deliver value to customers in new ways. For instance, a Germany-based compressed-air specialist is using a digital twin to increase the efficiency of its configure/price/quote system. It recently introduced "simulation as a service" for technical verification of customers' proposed configurations.
In "Space as a Service: The Trillion Dollar Hashtag," Antony Slumbers says the property and real estate industry should be doing the same. He writes: "We need to be zooming out and connecting all the dots in a quest to produce a user experience for our customers that is the sum of every human + machine skill at our disposal. We need to … start with the wants, needs and desires of our customers and work back from there."9
Giving tenants the ability to configure, price, and quote their desired building or property would allow them to get what they want, where and when they need it. Instead of finding a space and trying to turn it into a place, they would define the place they want while the property industry flexes to their requirements. Sophisticated digital twins that match available space with tenant desires would be needed for such a venture.
10. Providing Leasing Simulations
Digital twins can track and manage leasing activities to optimize portfolios and identify opportunities for growth. For example, a leasing simulator with multiple tenancies could consider: demand for space across a portfolio; supply of new and expiring leases available in areas of interest; and risk factors associated with the economy, changing work patterns, and the impacts of natural disasters like the pandemic. By analyzing market conditions, the simulator could provide early warnings about market issues, offer insights that accelerate decision making, and identify opportunities to reduce operational costs.
Conclusion
Digital twins are transforming the way the property and real estate industry undertakes placemaking by optimizing performance and efficiency, enhancing tenant experiences, and providing more sustainable outcomes. These improvements offer exciting ways to enhance revenue streams by rethinking the value of place via the application of digital twins. In the coming years, the opportunities to integrate digital twins that generate new revenue streams for the property and real estate industry will increase rapidly. Increased revenues will come from new products and services that leverage experiences in ways yet to be imagined. 
References
1 "Data and the Digital Self." Australian Computer Society, February 2023.
2 Trinquet, Joy. "Data Will Rule the Future of Facilities and Real Estate Software." Verdantix webinar, 23 February 2023.
3 "The Great Return: Emerging Insights from the Pandemic and Their Impact on the Future of the Workplace." Leesman and Lendlease, May 2022.
4 Sanderson, Danielle Claire, and Victoria Mary Edwards. "The Tenant as a Customer: Can Good Service Improve Commercial Real Estate Performance?" European Real Estate Society, 2014.
5 "Data and the Digital Self" (see 1).
6 Preut, Anna, Jan-Philip Kopka, and Uwe Clausen. "Digital Twins for the Circular Economy." Sustainability, 20 September 2021.
7 Milano Innovation District website, 2023.
8 "The Future of the Office Building: How Heat Pumps, Digital Twins, and AI Algorithms Are Making Buildings Greener and Safer." CB Insights, 4 May 2022.
9 Slumbers, Anthony. "Space as a Service: The Trillion Dollar Hashtag." 30 January 2019.