Dissecting the Aches and Pains of Implementing Business Agility
Posted September 8, 2020
| Leadership |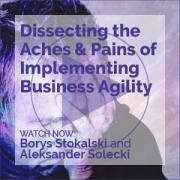 This on-demand webinar looks at the processes and practices that support business agility from the perspectives of value innovation and product portfolio management. You'll discover why "crossing of the Rubicon" is a useful metaphor to describe the challenge of rolling out an innovation that fundamentally changes the way an organization works, and why to achieve truly transformative changes, you'll need to reevaluate skills, priorities, resources, and power.
Not a Cutter Community Member?
Register today to read select open-access articles.