Market-based social activism (MbSA) seeks to align business activities with moral principles to drive positive societal changes. Its roots trace back to the 1960s. Paul Polman, former CEO of Unilever, is one example of such advocacy, and there are many others. Business has significant impact on society, for better or worse, given that it is the most influential global institution in terms of employment size and technol­ogical capabilities.
Danone's Opposing Business Models
In 2020, Danone, a global food and drink company headquartered in Paris, became France's first public Entreprise à Mission, a company with social and environmental objectives set in its by-laws. Emmanuel Faber, the company's then chair and CEO and a representative of stakeholder capitalism, thanked the 99% of shareholders who voted favorably for this new legal status for having "toppled the statue of Milton Friedman." (Friedman famously professed that "the business of business is business.")
However, Faber left Danone in March 2021 after seven years at the helm and 24 years with the company, defeated by activist investor-initiated attacks based on the company's financial underperformance.
Does doing good come with a cost? Could it be that Faber's triple-bottom-line approach distracted Danone from focusing on financial performance, making it vulnerable to attacks from profit-driven shareholders? Plausible, but hard to prove. If this is the case, Faber's departure from Danone could have been a do-gooder's sacrifice. As Polman pointed out, the incident "crystallized a fraught conflict within … two opposing economic models. One focused on a few billionaires; the other focused on serving billions of people." The Green-Grey Matrix in Figure 1 illustrates such conflicts.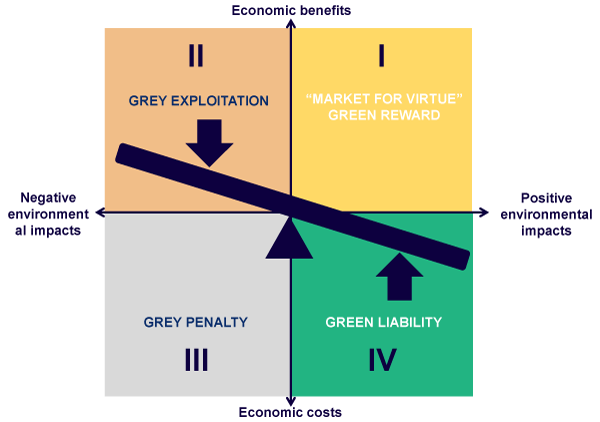 For simplicity, Figure 1 sets MbSA in the context of impact investing for environmental sustainability (green versus grey), but the same applies to conflicts between shareholder-centric and stakeholder-oriented business models. We can view the conflicts as occurring between two opposing camps: social investors with different priorities (profit versus impact) and time frames (short term versus long term).
All is well when their objectives align (Quadrant I, Green Reward), but conflicts occur when green leads to net costs (IV, Green Liability) or profit comes from exploitation (II, Grey Exploitation). Faber's departure from Danone might have been a case of the former, and Amazon workers' protests against unsafe working conditions could be a case of the latter.
As the planet continues to heat, so will such conflicts. And if the market does not value the externalities of business activities, do-gooders will continue to be punished for good-doing while exploiters are rewarded for exploitation. For business to scale as a force for good, such market failures must be corrected through a market for virtue.
The matrix also suggests that it "takes a village" beyond the private sector to achieve systems change. Regulations and legislation are needed to hold accountable companies that profit from exploit­ing nature — pushing them to move from Grey Exploitation (Quadrant II) to Grey Penalty (Quadrant III).
Norms and values are also necessary to generate the initial impetus for change and function as a mechanism of social control. Together, they may shift the market landscape from traditional shareholder-centric to revisional stakeholder-oriented, like a seesaw game between two opposing camps.
[For more from the author on this topic, see: "Force for Good: Market-Based Social Activism for Sustainability."]
Photo by Àlex Rodriguez on Unsplash.