How to Develop Connections Using the Customer Experience Equation
Posted September 2, 2021 in
Business Agility & Software Engineering Excellence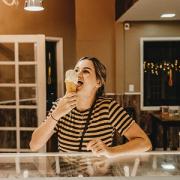 The goal of the customer experience equation (see Figure 1) is to develop a connection. Connection is achieved through two factors. The first is content and represents the product or service that you sell. In the short term, content is relatively static, as you've planned it months before and it represents your current inventory or service offering. As a restaurant, your content is essentially your menu, pricing, and atmosphere. As a retailer, your content is your assortment and inventory. It is what you sell and how you sell it — your brand position and purpose. It is essential that your content fulfill a want or need of your customer. But content alone cannot create a connection. It needs help.

The second factor is context, which represents everything surrounding both your content and your cus­tomer. In the pre-COVID-19 environment, context depended on understanding the customer's primary buying motivation (e.g., service, quality, value, con­venience) and meeting that need at the appropriate time and place. Using a simple example, a delicious bowl of ice cream (content) on a particularly hot summer day (context) is especially refreshing and satisfying (connection) — typically more so than on a frigid winter afternoon (though I recognize that one could argue that ice cream is perfect in any context). But the point is clear. When the appropriate content is delivered to your customer with the perfect context, you achieve higher degrees of satisfaction and connection.
The new, challenging environment in which we find ourselves has placed an even higher premium on better understanding the context in which our customers are operating. How is staying at home affecting their needs and wants and, hence, behavior and purchasing intentions? Has their job status changed significantly (e.g., furlough, pay reduction)? Are they sick or caring for a loved one and now have much more important priorities than shopping with us? What else has changed about our customers that is independent of our content? All these changes will impact our ability as technology and business leaders to deliver our con­tent within the right context and, hence, our ability to achieve connection. Companies that invest in understanding the very specific contextual changes of each customer will then be able to provide a matching level of service that is appreciated. Those that do not will come across as tone-deaf, lose sales, and lose customers.
But let's not forget about content. Remember, this equation is addition, so improvements in content or context will yield improved levels of connection. However, expanded content cannot simply be what is expected or common across the business landscape. Though important to our health, I doubt that many customers feel a deeper connection to retailers who have added protective masks to their assortments. In fact, some could argue that profiting from these new table stakes may even reduce connection. Product (content) extensions that are authentic to our brand, bold, and unique will deepen those connections.
As an example, an artisan ice cream shop in Columbus, Ohio, USA, released a flavor last year (expanded content) called "Sunshine." The product release stated, "[T]he color is muted and as gray as a rain cloud, but it tastes like a ray of sunshine on your tongue. We created this flavor as a reminder — for ourselves and each other — that when gray clouds descend on our lives, the sun always shines again." Talk about bold and unique; I've never seen gray ice cream before. And although I pondered this when it was 30°F in May (hardly the perfect context for ice cream), I'm sure that this brand's customers feel a deeper connection and are more likely to make a purchase.
Connection is about how you make your customer feel. Whether in times of crisis or stability, by getting content and context right, companies will deepen their connection with customers, which will benefit them not only in the present but for many years to come.
[For more from the author on this topic, see "Maintaining Customer Loyalty During & After a Crisis."]